The group phase of World Cup qualification may be over, but there is still space for four more European teams at next summer's finals in Russia.
Tuesday's playoff draw denied us the prospect of Italy facing Republic of Ireland — who famously defeated the four-time world champions at the 1994 World Cup and also beat the Azzurri to qualify for the knockout phase of Euro 2016 — and a "derby" that would have pitted Denmark against Nordic neighbours Sweden.
But the four ties — each to be played over two legs between Nov. 9-14 — offer plenty of intrigue, and the prospect of a seeded side or two succumbing to their lower-ranked opponents.
Nick Miller sets the scene for each tie and predicts who will be among the final 32 when the main tournament kicks off on June 14, 2018.
Northern Ireland vs. Switzerland
Based purely on the group stages, Switzerland were the team to avoid. They won nine of their 10 games, missing top spot to Portugal only on goal difference after a defeat in Lisbon in the last game, and their 27 points would have been enough to win five of the other eight groups. The caveat there is that they probably had the easiest group (Faroe Islands finished fourth), but they have reached the last three World Cups, reaching the second round twice. Take the FIFA Ranking as you will, but Switzerland are currently 11th, having only dropped from the top 10 this month.
Still, this was a draw Northern Ireland manager Michael O'Neill wanted. He said this week that he fancied either the Swiss or Denmark over Croatia or Italy. Is that a feeling based on historical superiority and unfamiliarity, rather than recent form?
Perhaps this will suit Northern Ireland, ultimately. They are used to being the underdogs, and qualified for the last European Championship on that basis. O'Neill said after the draw: "It's a tie we think we can win over 180 minutes."
This is new territory for Northern Ireland: they've never played a playoff to qualify for a major tournament, and of course this would be their first World Cup in 32 years. One thing they could latch on to is Switzerland's big-game nous — they meekly lost that game against Portugal that could have taken them through automatically — so if O'Neill's men show some of whatever has helped them perform above their ability for the last few years, they will have a chance.
Prediction: Northern Ireland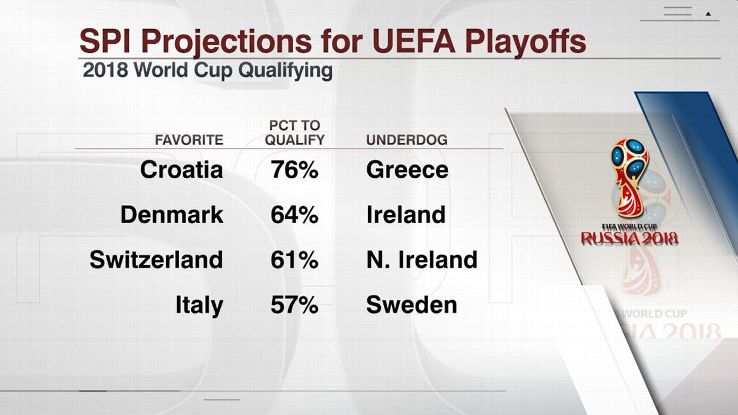 Croatia vs. Greece
There's always a tension between the idea of either having the best players at a World Cup or some variety and teams who genuinely deserve to be there. On the latter point, you could make an argument that Croatia might benefit in the long-term from not making it through this time: they are in something of a mess. They have serious problems with the national association, and of course they sacked coach Ante Cacic two days before the final game of their qualifying group. Ultimately that worked: they beat Ukraine 2-0 in Kiev and secured second place, but it hardly equates to a team in good health.
And yet, if you regard the World Cup as a spectacle of football, something the globe can gather round and enjoy, then would it be diminished without Luka Modric? The Real Madrid genius is still, despite the wide-ranging plaudits he enjoys, perhaps the most underrated player of his generation, and at 32 this might be his last World Cup. Indeed, Modric may retire soon anyway: he's not as popular as you'd imagine at home, thanks to his involvement in the trial of Zladko Mamic, formerly a director at Dynamo Zagreb, and considered giving up international duty earlier this year.
Greece will as ever present a ticklish task, but they're perhaps not the force of old. They won their first three and last two group games but trudged through four straight draws in between, all of them either 1-1 or 0-0. You can be pretty sure this won't be the most goal-filled tie — of the teams in the playoff, only Republic of Ireland scored fewer than these two — but perhaps low-scoring, gut-wrenching tension is what you want from a playoff. In theory, Croatia should have just enough quality to win.
Prediction: Croatia
Denmark vs. Republic of Ireland
Given their record under Martin O'Neill for raising their game against the best, giving the top sides bloody noses in matches upon which everything depended, Ireland might have been disappointed to miss Italy. Admittedly their win over the Italians at Euro 2016 was gained over a much-changed side, but O'Neill argued that made their task harder, against a still strong but more motivated XI. Do Denmark count in that upper echelon of sides that the Irish get themselves extra jazzed for? No, but while it might be a stretch to say that makes Ireland's task harder, this might be the toughest draw they could have had.
O'Neill has fashioned a team that certainly perform as greater than the sum of their parts, and in the away leg you can certainly expect the sort of side that beat Wales in the crucial final game of the group stage — meaty, reasonably unattractive but effective. This is not a side who will be brushed aside easily, and might have too much force for the technically superior Danes if it's deployed correctly.
But boy, are they technically superior. In Christian Eriksen they have a playmaker approaching his peak, and while the 20-year-old Kasper Dolberg is not yet an automatic selection for the national team, he is a fine talent and one for Ireland to be wary of. Denmark improved greatly from defeats in their opening two group games, and handed out a couple of fair hidings along the way. Ireland's record in big games is undeniably impressive, but Denmark could end that run here.
Prediction: Denmark
Sweden vs. Italy
Probably the tie of the playoffs. These are two talented but flawed sides. Both had their moments in the group but also suffered some frustration. It seems like the sort of encounter in which anything could happen.
Italy had the misfortune to be drawn with a resurgent Spain in their group, but nonetheless almost contrived to make a mess of things independent of their fixtures against David Silva and Co. They required a 92nd-minute goal to beat Macedonia away, drew with them at home and were unconvincing in several other games. They have some fine talent in their side, but the question is whether it is being managed properly by Gian Piero Ventura, and the absence of striker Andrea Belotti with a knee injury could be a key factor.
Likewise, Sweden probably couldn't have expected to win their group — the absurdly talented France finished above them — and you could view them finishing above Netherlands either way. On the one hand, they did outlast the Dutch, broadly thanks to those eight goals they ran in against Luxembourg, but then again they couldn't beat a side in such decline in either fixture against them. This is not a side filled with big names, and one that has missed the last two tournaments, but does have youth and vigour. This should be a cracker.
Prediction: Italy
Nick Miller is a writer for ESPN FC, covering Premier League and European football. Follow him on Twitter @NickMiller79.