Wayne Rooney will make his first appearance back in an Everton shirt in the club's friendly against Kenyan opponents Gor Mahia in Tanzania on Thursday.
Manager Ronald Koeman has confirmed all players making the trip to East Africa, arranged as part of their partnership with new sponsors SportPesa, will feature for at least 45 minutes.
"I'm looking forward to it — it should be a good trip," said Rooney, whose return to his boyhood club was confirmed when he signed a two-year contract at the weekend to end his 13-year stay at Manchester United.
"It'll be nice and hopefully I'll get on the pitch and get some game time.
"It's good when you go away with the team. It's good to be around the hotel with the players, spend more time with them and get to know them more.
"I've never been to Tanzania before, so I'm really looking forward to it."
Koeman will take new signings Davy Klaassen and Michael Keane on the trip but goalkeeper Jordan Pickford and Sandro Ramirez are still on extended leave after their involvement in the European Under-21 Championship.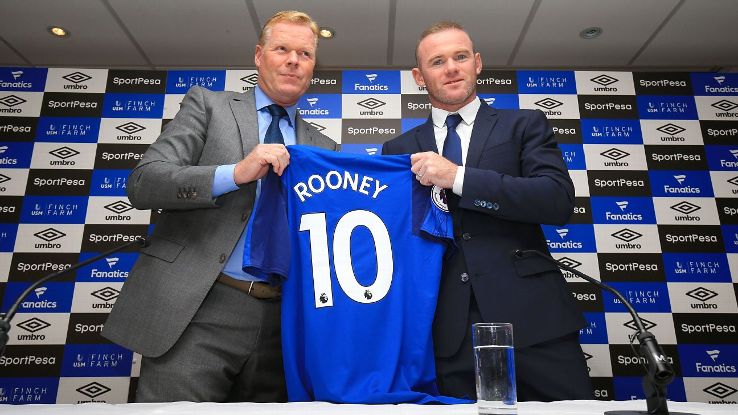 The Toffees boss said: "It's always difficult in preseason to go a long way abroad because it will be hot over there and we need to play the friendly.
"But with the way we have organised it, we leave on Tuesday evening and are back on Friday — that's good because it's not too long and it won't have a negative effect on our preseason.
"It's a trip that is not all about football. There is the commercial side as well, which is good for Everton. We will support the club in what we need to do over there.
"The most important thing is how we start our pre-season. It is about what we need to do to get to our best at our football and physical levels.
"This is our first friendly and everybody will be involved for 45 minutes in the game. You play football to win and we will do that in Tanzania." ends
Striker Oumar Niasse, one of five out-of-favour players not to be allocated a shirt number last summer after featuring for just 45 minutes in a preseason friendly, has been handed the No. 34 after Everton confirmed their squad's shirt list.
However, it appears unlikely Niasse, who scored five times in 19 appearances after joining Hull on loan in January, will feature much for Koeman's side as the Dutchman has brought in almost £40 million-worth of attacking talent and is still interested in Swansea's Gylfi Sigurdsson and Arsenal's Olivier Giroud.
Rooney's No. 10 was confirmed a couple of days ago, but fellow forward Ramirez has taken the No. 9 shirt, injured winger Yannick Bolasie has swapped 14 for the departed Gerard Deulofeu's No. 7 while goalkeeper Joel Robles has surrendered his No. 1 shirt to Pickford. 
For all the recruitment — with close to £100 million spent so far — the club have done, captain Phil Jagielka admits the signing of Rooney is a "bit special."
"To get Wayne in so early is great. He will be able to go on the preseason trips we have and become as fit as possible," Jagielka said.
"It will be great to have him around the gaff because he knows what it takes to be an Everton player.
"He has had to pretend not to be for a little while but, as you can see, he is delighted to put on the blue shirt."