When it comes to piecing together an international roster, a manager sometimes resembles a chemist. The form of different players and how their personalities fit together must be taken into account.
That goes for the fringes of the roster as well. Perhaps a veteran is brought in to help set the proper tone in training and during the run-up to critical matches. He may not even play in the games, and may not have a long-term role in the squad. But in the near term, said veteran has a role to play.
That certainly appears to be the case with New York City FC forward David Villa, who has surprisingly been called up for Spain's upcoming World Cup qualifiers against Italy and Lichtenstein. To be clear, Villa has been in electric form for NYCFC, with an MLS-leading 19 goals and eight assists. He is certainly on anyone's short list for the MVP award. If Villa were to claim that honor this season, he would be the first repeat winner in the league's history.
Yet it has also been three years since Villa was last brought in to play for La Roja. And it would appear that despite the ongoing saga concerning Diego Costa's club situation, Spain manager Julen Lopetegui still has an embarrassment of riches from which to choose, including the Chelsea duo of Alvaro Morata and Pedro. Yet Lopetegui found a role for Villa.
"We always said that we would not close the door to anyone," Lopetegui said at Friday's news conference. "We felt we needed him now and we think he will help us. He is having magnificent performances with his team and he is very motivated.
"It's true that he comes from a different league, but that is the way it is. I have spoken to David and we have seen him play.
"As always, Villa brings determination, ambition and experience. We are confident he can help us."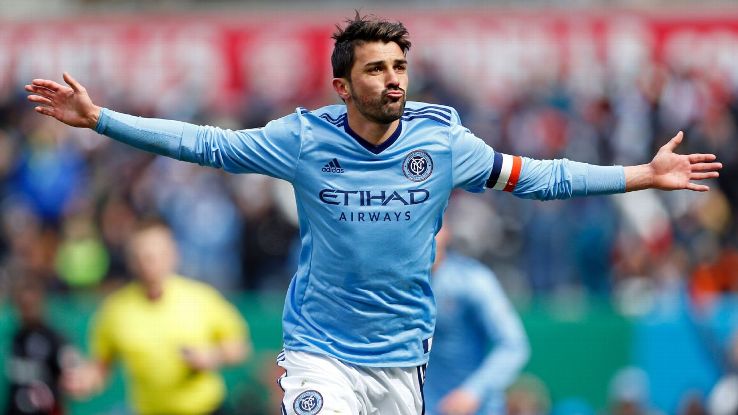 That said, there should be hesitance in drawing any broad conclusions about Villa's recall and what it says about the perception of MLS abroad. To be clear, no one will conclude that MLS is on par with La Liga, the Premier League, the Bundesliga, etc. At most, Villa's inclusion indicates that playing in MLS needn't be disqualifying in terms of a player's international status, but that was evident already.
David Beckham made 19 appearances for England after moving to the LA Galaxy in the summer of 2007. Montreal Impact defender Laurent Ciman has continued to get called up by Belgium, one of the top international sides in the world. Robbie Keane continued to play a significant role with Ireland during his productive spell with the Galaxy, while Atlanta United midfielder Miguel Almiron hasn't seen his international prospects harmed in terms of his future with Paraguay.
Of course, Villa's situation is different in that both he and Spain are soccer royalty in terms of what they've achieved together. But Villa's status hints at a level of trust that has been built over time, including his performances at the 2010 World Cup, when his five goals not only led La Roja to the title but also made him the joint highest scorer in the tournament. He is a known quantity in the Spain setup.
Contrast Villa's situation with that of Toronto FC's Sebastian Giovinco. The Italian has been Villa's equal in terms of his importance to his MLS club. Yet his opportunities with Italy have been scarce, with the Atomic Ant making just two appearances for the Azzurri since he moved to MLS in 2015.
When both Giovinco and NYCFC midfielder Andrea Pirlo were left off Italy's provisional roster for Euro 2016, then-Italy manager Antonio Conte famously said, "When you make a certain choice and go to play in certain leagues, you do so taking it into account that they could pay the consequences from a footballing viewpoint."
The criticism of MLS in that moment was blunt and clear. But to be fair to the league, Giovinco has just 23 caps for Italy and has never been a player whom Conte or any other Italy manager was prepared to build his team around. Unlike Villa, and due in part to some struggles at club level, Giovinco never quite received that benefit of the doubt, and he was unable to move beyond fringe status. Again, each manager has his own calculus for determining what he needs and who fits.
Will there continue to be skepticism about MLS? Without a doubt, but there has been and continues to be respect as well. The relative situations of Villa and Giovinco show that assessment is ongoing.
Jeff Carlisle covers MLS and the U.S. national team for ESPN FC. Follow him on Twitter @JeffreyCarlisle.