If Manchester United hadn't started the season playing attacking football so effectively, there would have been more talk about Phil Jones' impressive performances in the opening three games.
Against West Ham, Swansea and Leicester, he barely put a foot out of place. When you consider that in those games he's faced the speed, strength or height of Javier Hernandez, Jamie Vardy, Joshua King and Marko Arnautovic, that shows the variety of the defensive attributes he's had to master. None of these opponents got much joy from him.
Jones' good performances shouldn't come as a huge surprise though as, when fit, he largely played well last season. He returned to fitness in November, having been out with injury since January, and looked like the player the supporters had always hoped he would be. What was more surprising was it was Marcos Rojo, who hadn't done much since Louis van Gaal brought him to the club, who he formed the most impressive partnership with.
As has been well documented, Sir Alex Ferguson once claimed Jones could go on to be the club's all-time greatest player, which was a remarkable prediction, while Sir Bobby Charlton likened him to Duncan Edwards.
Yet he's never really fulfilled his potential. He had a good first season and often got the Old Trafford crowd roaring him forward when he would take the ball out of defence into the opposition's half, but injuries and periods of poor form have left question marks over his United future. Some are surprised he's been afforded as many chances as he has, with his regular absences and stints of poor form making him somewhat of a liability at times.
Fortunately, Jones has time on his side, having signed for United when he was only a teenager. He is into his seventh season at the club, yet he's still only 25, so should have his best years ahead of him.
"He is everything I like in a central defender," Mourinho said after the win over Leicester, which is high praise indeed.
Yet the manager also touched on how injuries had held Jones back, before revealing that the defender is carrying one at the moment. Jones' ankle is giving him trouble, according to Mourinho, but maybe he just said that to keep his player away from international duty.
Jones has since been passed fit to play in the upcoming World Cup qualifiers against Malta and Slovakia but it is understandable why Mourinho would like to keep him away from England duty.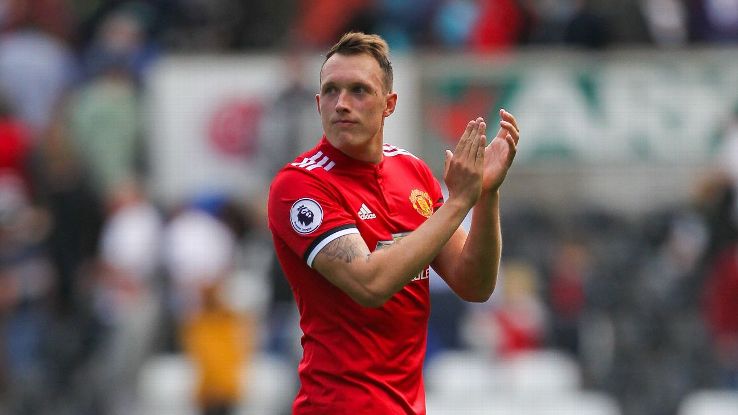 The last time Jones went away to play for England, he ended up breaking his toe in a challenge with Chris Smalling, keeping him out of action for two months.
Smalling is a player who is now certainly below Jones in the pecking order and it would be no huge surprise to see him leave the club next summer, particularly if Victor Lindelof has settled by then. The new signing has only managed the role of unused substitute in one of the games so far, although Mourinho has confirmed that he will partner Smalling for United's first Champions League game since 2015, when United face FC Basel next month.
Eric Bailly and Jones — Mourinho's preferred central defensive partnership — are both suspended, yet probably don't fear for their places in the competition when they return. Smalling had a poor campaign last season and Lindelof is still finding his feet.
This means then, with a steady run of games, Jones should be able to cement his place in the starting team and begin to establish himself as the quality player both Ferguson and Mourinho claim that he is.
United are yet to concede a goal and Jones deserves his share of the credit for that. Van Gaal oversaw three clean sheets in his opening three games of his final season in charge but that could also have been attributed to the controlled and compact football the Dutchman employed. In contrast, Mourinho is letting the "horses run freely," and still the opposition can't break United down on the counter.
There would be no huge shock if Jones returns from this international break with a new injury, so expectant are the supporters for him to get sidelined whenever he goes through a period of good form.
But as important Romelu Lukaku's goals or Henrikh Mkhitaryan's assists are to United's title hopes, the fitness and form of Jones ranks fairly highly when considering the chances of United bringing back the Premier League trophy to Old Trafford. Particularly when the players who would replace him are not yet, or ever, the calibre you'd require for a title winning team.
Ferguson once claimed that Jones would captain United one day, and while that might be another prediction the legendary manager got wrong with the defender, his gung-ho approach can certainly add value to Mourinho's current squad and their bid to win the title.
Scott is one of ESPN FC's Manchester United bloggers. Follow him on Twitter: @R_o_M.