LIVERPOOL, England — Brendan Rodgers had a clear objective upon his return to Anfield for the first time on the four-year anniversary of his sacking as Liverpool manager.
His Leicester City side were prepped to "test and challenge the quality" of the league leaders — on a 16-match winning run in the division — and when James Maddison cancelled out Sadio Mane's opener on 80 minutes, the Northern Irishman calmly raised a clenched fist and might have considered the mission accomplished.
Liverpool had ruined clear openings to put the game out of reach, and they were running out of time. Jurgen Klopp "could not think of a tougher opponent to face in this moment at Anfield" than third-placed Leicester, just two points behind Manchester City, and the threat of a first top-flight loss since Jan. 3 hung heavy in the air.
— Ratings: Milner, Mane both 8/10 as Liverpool leave it late
— Klopp: Tackle on Salah was 'dangerous as hell'
But resilience is a core reason behind the champions of Europe being England's pacesetters, and as the clock struck 95 minutes, James Milner sent Kasper Schmeichel the wrong way from the penalty spot to hand Liverpool a 2-1 victory and extend the club's unblemished start to the season and further underline their ambitions to become domestic champions.
Not much will have felt familiar for Rodgers at the ground he called home for just over three years. In four, his successor Klopp has transformed Liverpool from inconsistent nearly men to the ultimate team to beat, who have as much snarl and street smarts as swagger and surety.
The German's 221 matches in charge have produced 130 wins, a club record league points total of 97 and three continental finals, with one resulting in a sixth European Cup.
Rodgers was not the man who could restore Liverpool to their perch, but he has the perfect skill set to elevate a balanced and talented Leicester squad, especially with Tottenham tanking and Arsenal and Manchester United failing to mesh quality and consistency.
Only Liverpool and City have won more league points since the 46-year-old was appointed at the King Power Stadium, and right now, the 2016 champions are shaping up to be the best of the rest, even if they failed to grab anything on Saturday.
The pivotal decision in the game — Marc Albrighton penalised for clumsily knocking Mane over in the area — naturally drew different responses from both managers. It was "difficult to take" for Rodgers, who thought the Senegal international "made the most of the contact." Klopp countered that it was "obviously a penalty," a view shared by the VAR, but Liverpool should have already had the fixture wrapped up — and comfortably — by that point.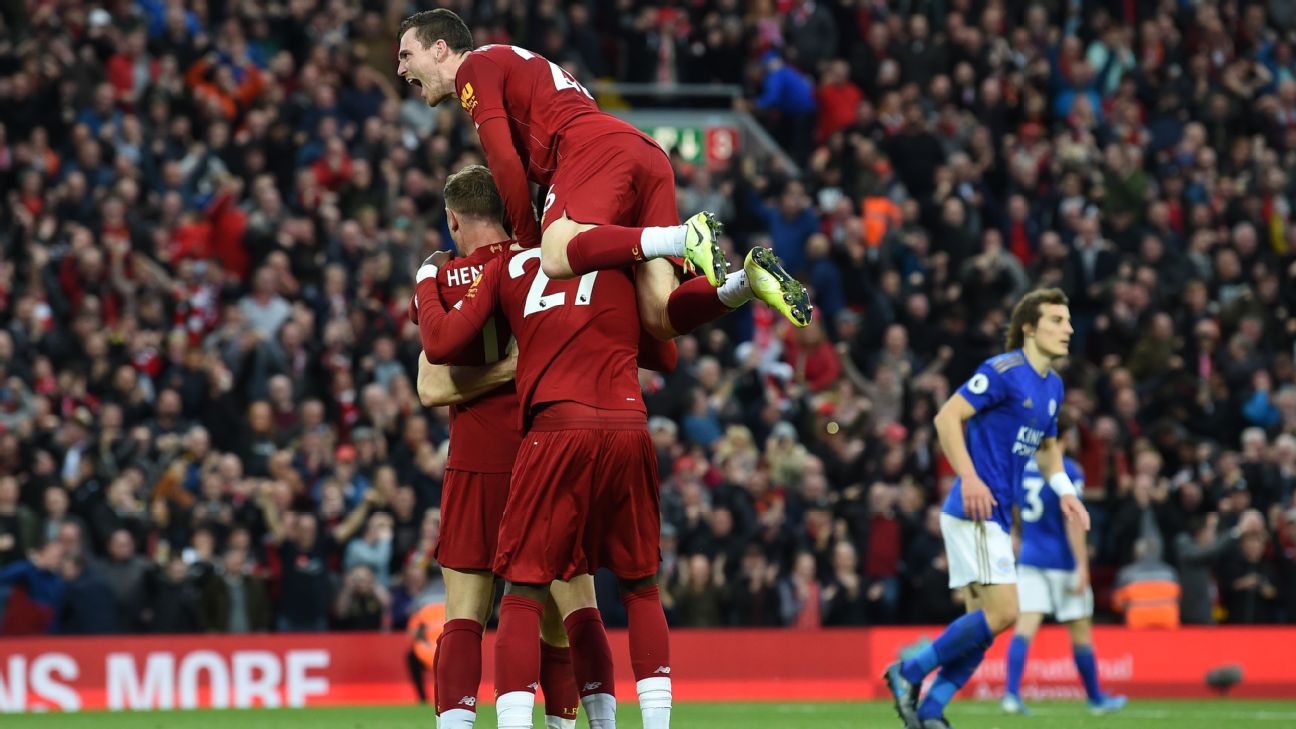 Despite intensive midweek exertions against Red Bull Salzburg in the Champions League, where the Reds secured a late 4-3 victory, they delivered a strong 60 minutes against a Leicester team primed to challenge for a top-four place.
"The first half was exceptional," Klopp said after the match. "We put them under pressure. The energy levels of the boys is just incredible, how we do and do and do again after a difficult week.
"The only problem we had was that we only scored one goal, and it was clear there will be a moment in the game where Leicester probably will come up a little bit because our energy level dropped."
Liverpool created six big chances to their opponent's none and restricted them to two shots in total, the first of which materialised on 73 minutes. They had 34 touches in the box to nine and 14 attempts inside the box to one. The hosts dominated every element of the encounter, including winning their duels, and it would have been hard to stomach if they surrendered points on this day.
"I wasn't sure we would win. How could I be? But I didn't feel we would lose," Klopp said postmatch.
"A point against Leicester is not a catastrophe — that would be a success for 95 percent of teams.
"We don't go for keeping the unbeaten run going. We only want to win football games. If winning eight games in a row would be easy, a lot of teams would do it. It is really difficult. Of course, the boys have a bit of belief because they experience that, in our common past.
"But the kind of effort they put in is exceptional. Some people asked me if our defending is not that good, but I never saw a team defend Jamie Vardy better than we did today. Apart from the situation in the second half, with the long ball — I never saw that before — Dejan [Lovren] and Virgil [van Dijk] did incredibly well."
A lot of good things lead to a result. I don't see where we needed too much luck because it was a penalty, and I am not sure how many chances Leicester had. We don't think we will win all football games. But we were ready for a fight."
Liverpool continue to display the depth of characteristics needed to end their 29-year title drought. They have won ugly in uncomfortable circumstances twice in a week — away at Sheffield United through a goalkeeping howler and with the late penalty against Leicester. Sandwiched between that, they successfully steered the Salzburg clash back in their favour after a quick, painful implosion in the second half saw them squander a 3-0 first-half lead.
Perhaps most impressive is that Liverpool often play as though they are at the other end of the table, scraping and clawing for everything in every fixture.
"We respect the hard work we have to do," Klopp said. "So far so good, but we have 30 games to come.
"We are not fussed by the situation. People talk to us about the winning streak, but we don't think about it.
"We looked like a team that had never won a game before, and I loved that."