The notion someone is a "chequebook" manager has irritated bosses in the past, with Pep Guardiola among those to bristle at the suggestion he prefers shelling out cash instead of developing players.
Jose Mourinho has been dogged by claims his success is purely down to blasting his rivals out of the water in the transfer market, but which manager has exhibited the biggest spending power in the last decade?
ESPN FC's club correspondents crunch the numbers from the start of the 2008-09 season, when Guardiola took over as coach of Barcelona.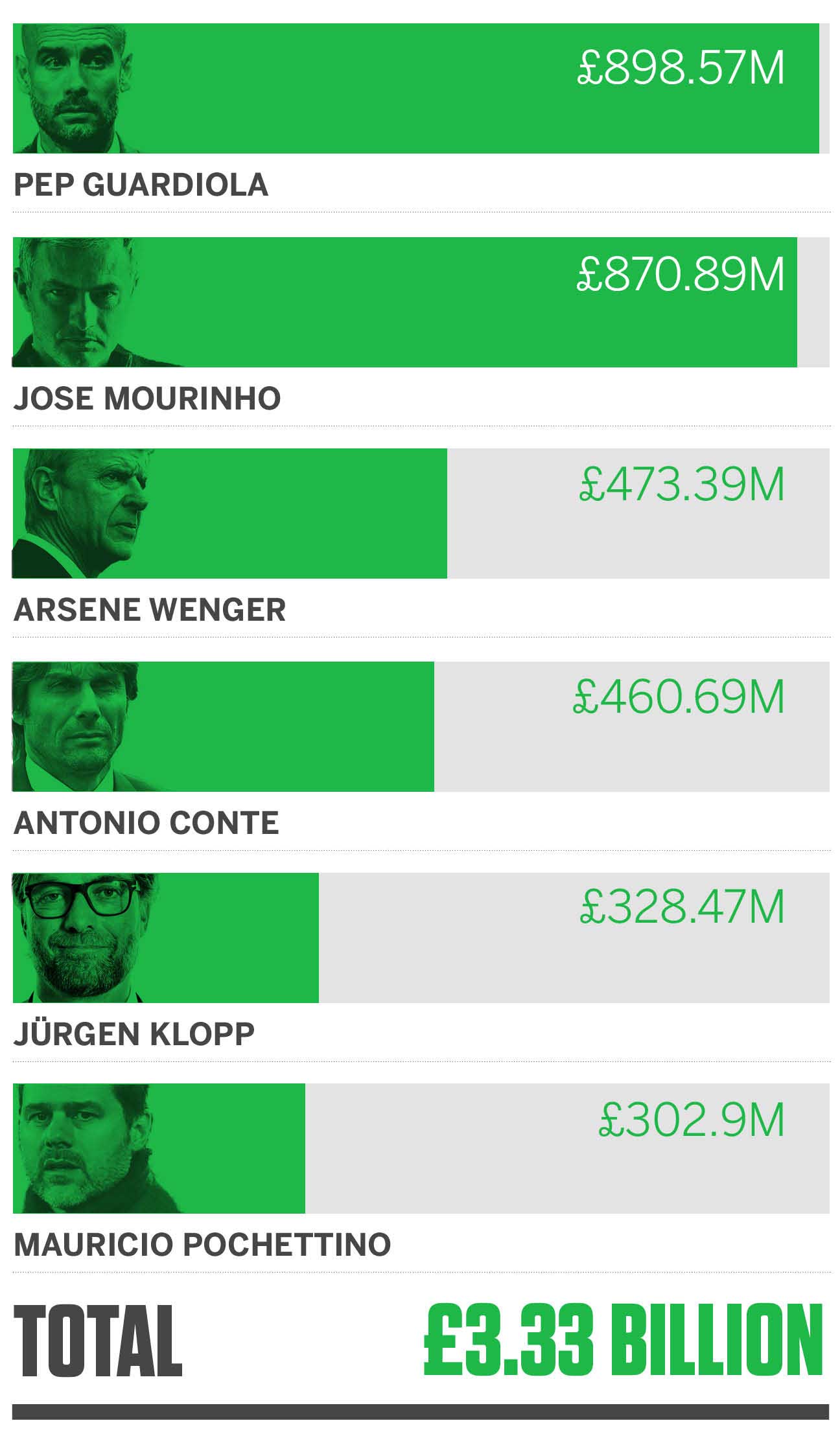 The numbers show that Pep Guardiola has spent almost £900m since he became a first team coach.
Here's a look at each manager and their spending philosophy. 
PEP GUARDIOLA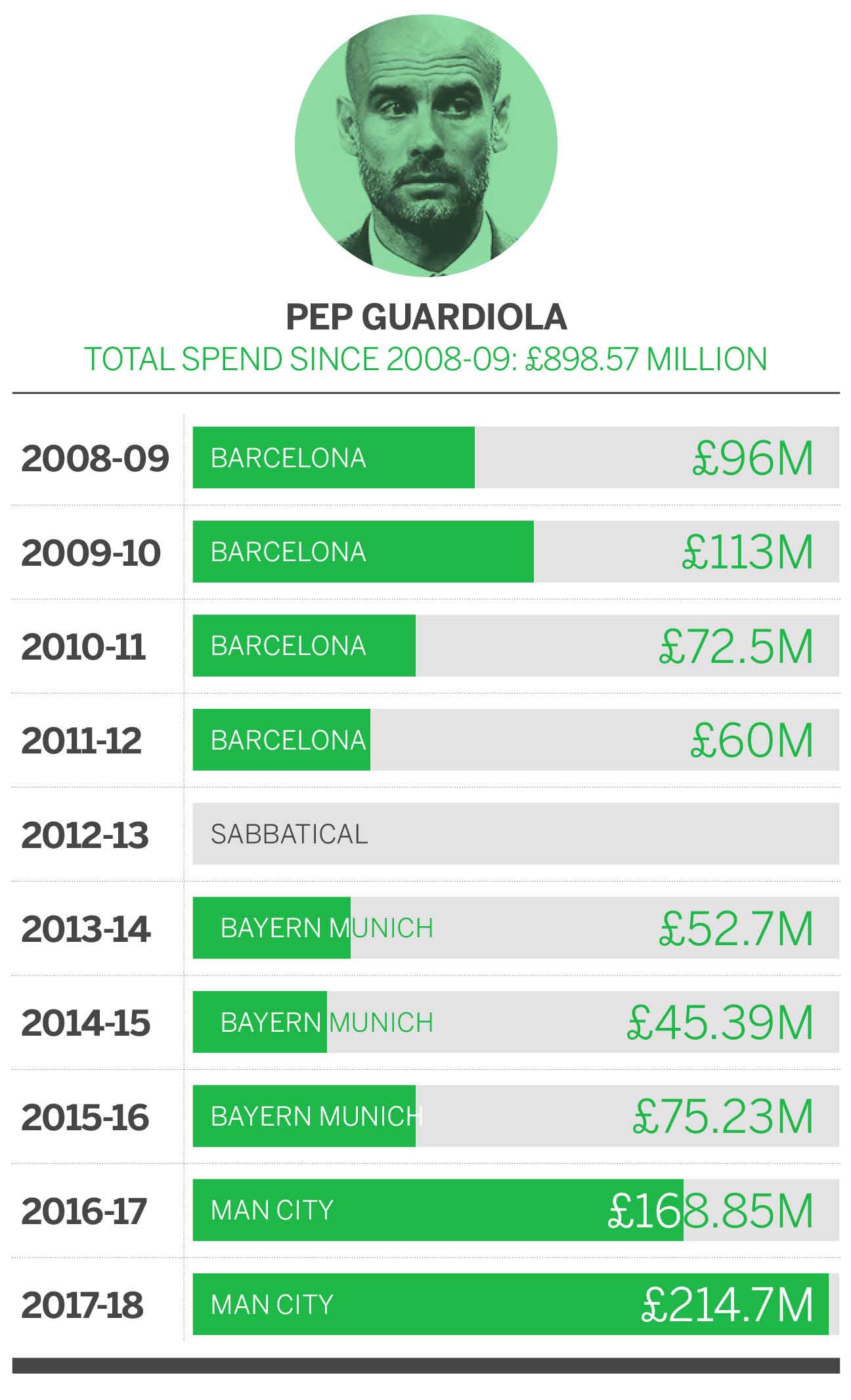 Guardiola isn't afraid to bring out the chequebook if there's an area of his squad which he feels needs improving. This summer he was prepared to ditch all four of his full-backs at Manchester City, who he felt were too old, with more than £120m spent on replacements. Some of his signings have more than paid back their heavy investments, such as Dani Alves and David Villa at Barcelona, but there has been a couple of expensive flops along the way.
Dmytro Chygrynskiy is infamously one of Guardiola's worst signings — playing just 851 minutes before being dumped after a £20m move — while Zlatan Ibrahimovic lasted just one season after Guardiola splashed out £59m for the striker, letting Samuel Eto'o leave in the process. — Jonathan Smith
JOSE MOURINHO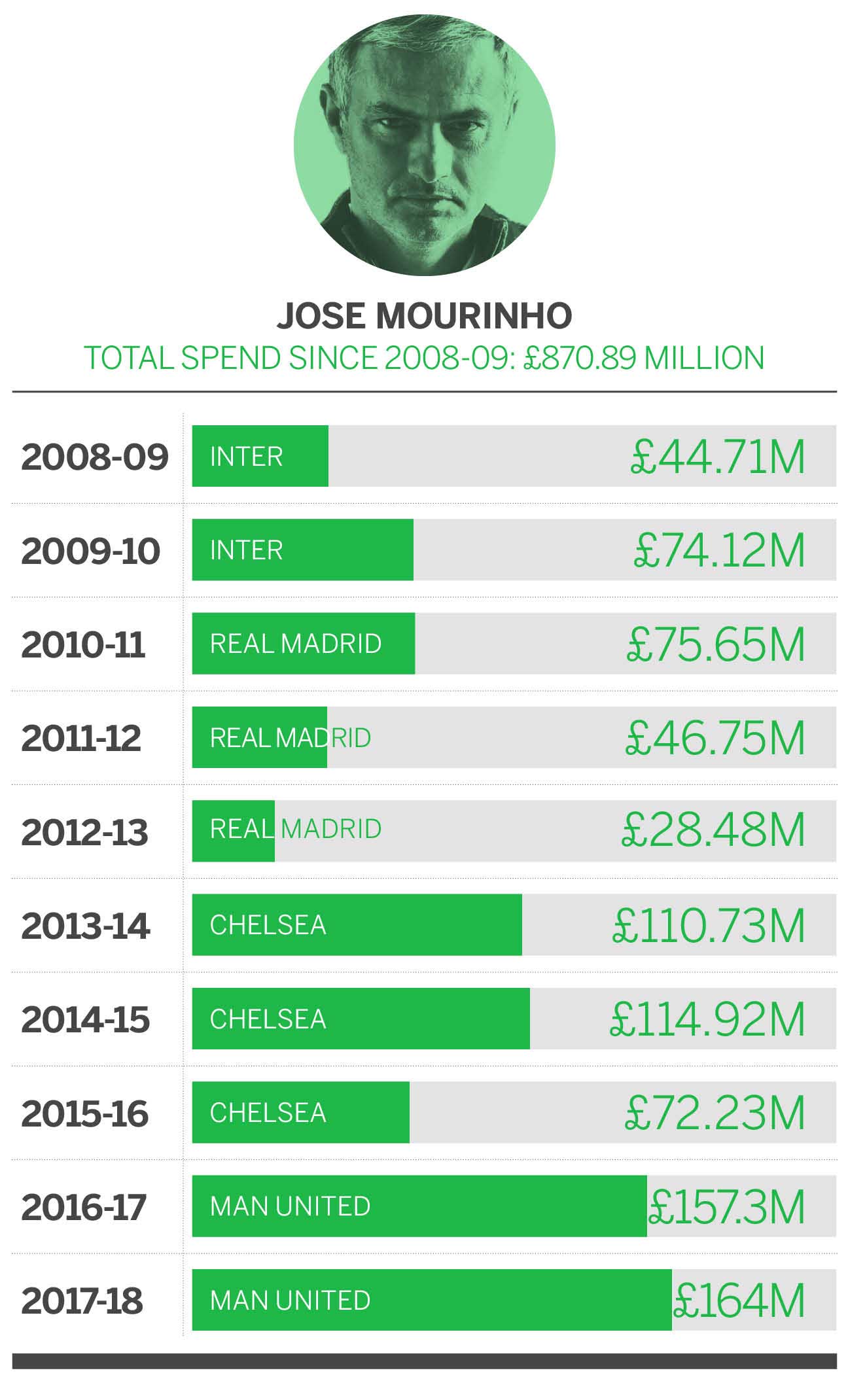 Mourinho has never been afraid to spend. Like every manager, he has had hits and misses. For every Khalid Boulahrouz and Ricardo Quaresma there is a Wesley Sneijder or Didier Drogba.
But in terms of value for money, you only need to look at what he has won. League titles in Portugal, England, Italy and Spain, plus two Champions League winners' medals, speak for themselves. There are managers who have spent a lot more and won a lot less. His spending at Manchester United will be judged in the same way, although the goalposts have moved already during his short time at Old Trafford. For 12 months he was the coach who sanctioned a world record deal for Paul Pogba, but £89.3m looks a lot more reasonable in a world where Neymar is worth £222m. — Rob Dawson
ANTONIO CONTE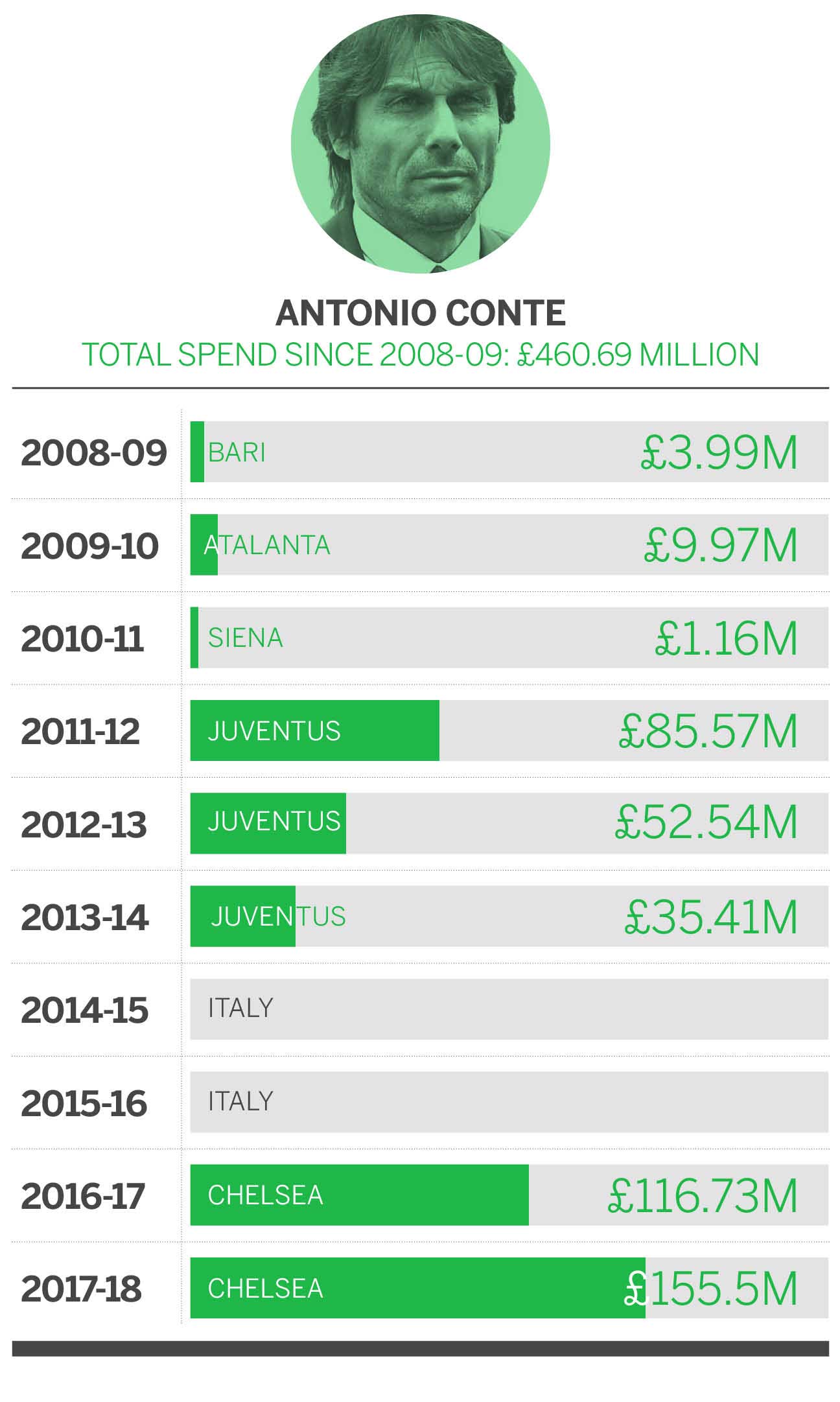 Conte has good taste in players, and an impressive track record of improving them. In 2008-09 he led a Bari squad assembled on a shoestring budget to the Serie B championship, getting 23 league goals from on-loan Udinese striker Barreto — comfortably the best tally of the Brazilian's nomadic career.
Two years later, Conte earned promotion to Serie A again with Siena, despite spending just £1.16m in total. At Juventus he spent bigger, splashing out £173.52m over three historically dominant seasons and helping Arturo Vidal (signed from Bayer Leverkusen for £11.25m, later sold to Bayern Munich for £33.3m) and Paul Pogba (signed from Manchester United on a free transfer, sold back to them for £89.3m) become world-class performers coveted across Europe.
Chelsea have bought sparingly and well since Conte's arrival, despite failing to deliver some of his priority targets. N'Golo Kante, David Luiz and Marcos Alonso all became key starters in last season's title-winning team, while Michy Batshuayi has shown flashes of promise. This summer Alvaro Morata, Tiemoue Bakayoko and Antonio Rudiger were all solid acquisitions before the deadline day arrivals of Danny Drinkwater and Davide Zappacosta for over £60m. — Liam Twomey
ARSENE WENGER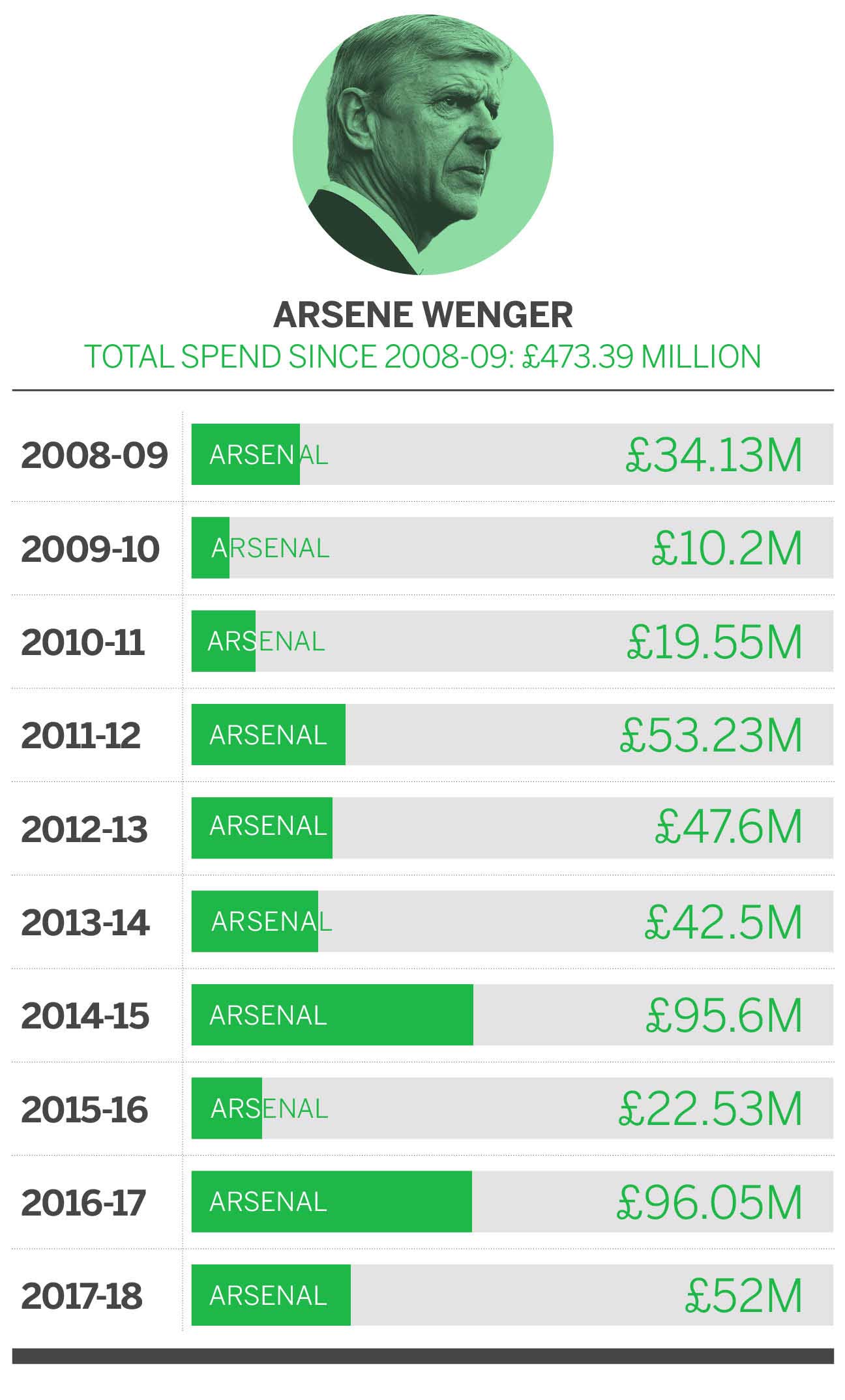 Wenger has never been known as a big spender, with much of his Arsenal career eyeing bargains in the transfer market and developing young talents. But he has loosened the purse strings considerably in recent years, and made big moves for the likes of Mesut Ozil, Alexis Sanchez and Alexandre Lacazette.
He hasn't always spent wisely, however, as proven by this week's scramble to offload Lucas Perez and Shkodran Mustafi, who were brought in just a year ago for a total of more than £50m. Wenger was once regarded as a transfer genius for finding gems like Patrick Vieira and Thierry Henry, but now seems increasingly incapable of finding the right pieces to turn his team back into the title contenders. — Mattias Karen
JURGEN KLOPP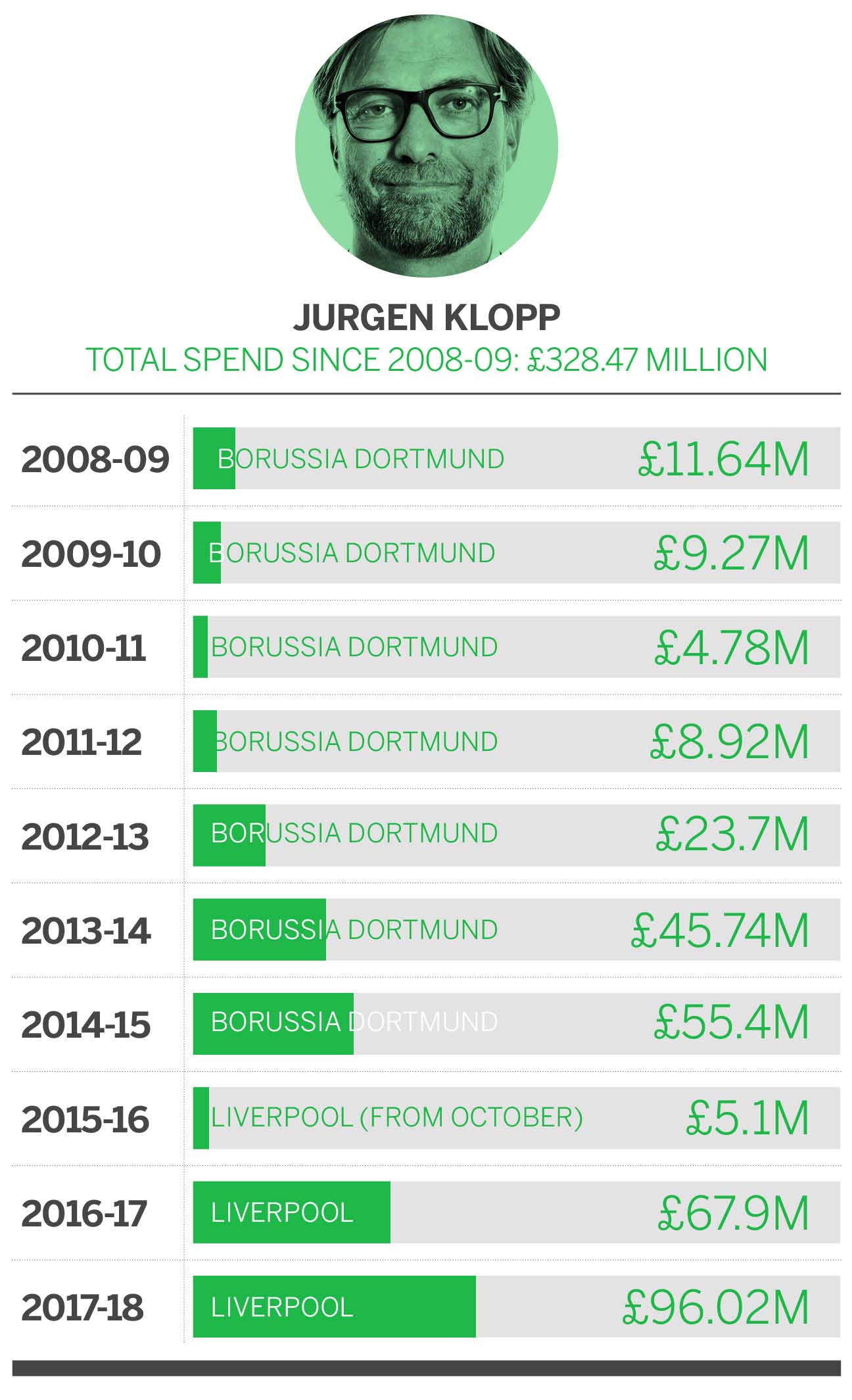 Klopp insists he is not a fan of the transfer market, preferring to develop and nurture homegrown talent over signing players for marginal gains. While he did that on occasion at Borussia Dortmund, in Germany he was renowned for his ability to pluck unknown players for relatively low fees and turn them into world-class stars. The transformation of Robert Lewandowski proves that. However, his activity in the market since the 2012-13 season suggests he is finding that approach more difficult to achieve, with his spending increasing every year since.
Although his overall spending is significantly lower than other high-profile managers, Klopp is not afraid to splash the cash on a player he feels is worth it. Marco Reus, Henrikh Mkhitaryan and Sadio Mane are some of his most expensive signings, and all three can be considered successes. With Mohamed Salah and Alex Oxlade-Chamberlain coming in, his spending in 2017-18 is the biggest of his managerial career by some distance. And that's before £48m worth of Naby Keita arrives next summer. — Glenn Price
MAURICIO POCHETTINO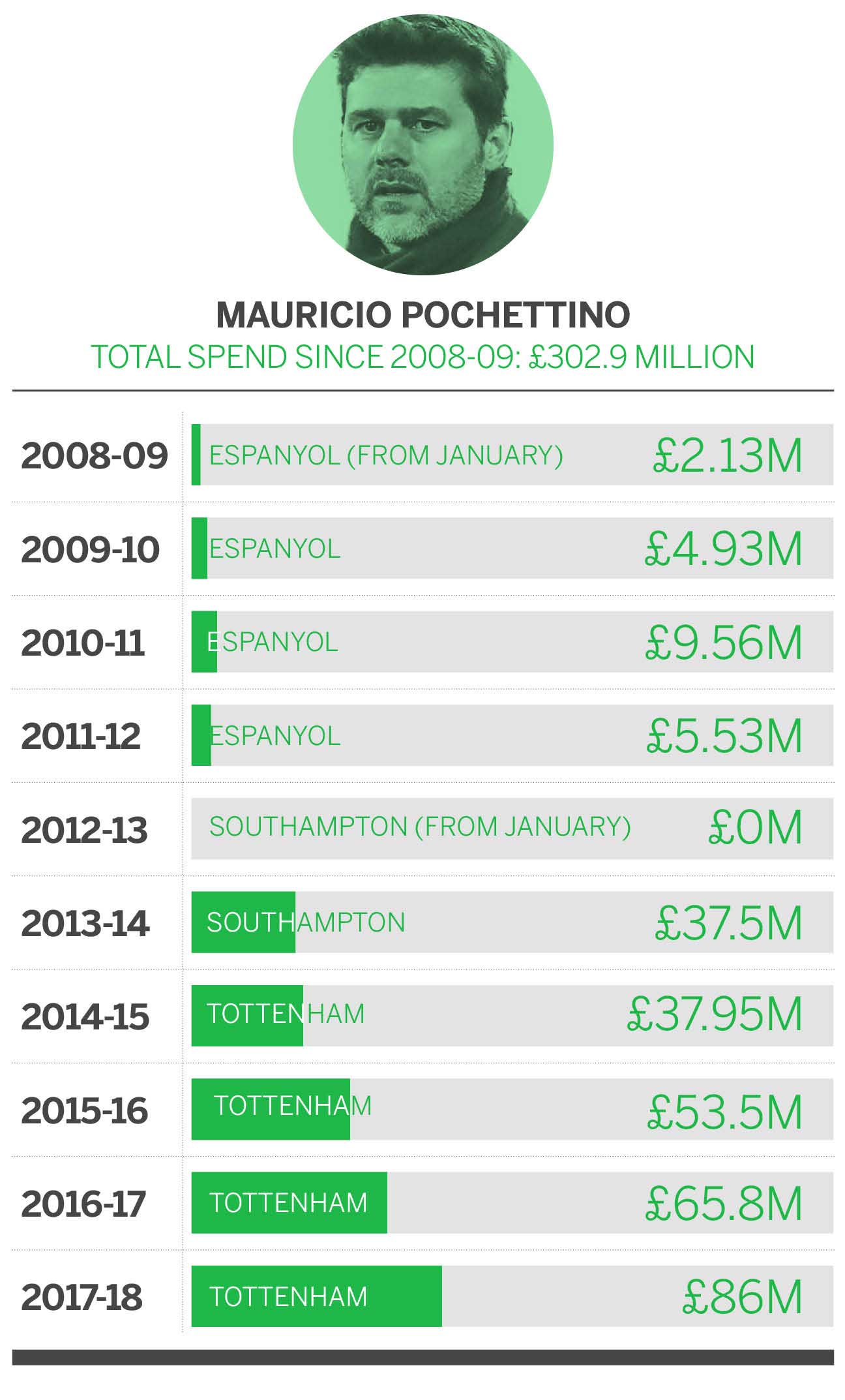 Pochettino would always prefer to promote an academy player rather than sign someone new, and when he does buy he targets youngsters who can be moulded to his philosophy. In over three years at Spurs, Pochettino has only signed three players aged 25 or over — Federico Fazio, Toby Alderweireld and Moussa Sissoko. Fazio lasted just a year, while Sissoko, who joined for £30m from Newcastle last summer, is one of the manager's biggest mistakes in the market.
Pochettino also prefers to buy native players who can play in more than one position; Eric Dier and Dele Alli are hugely successful examples of these ideals in action. So far, Pochettino has provided his clubs with tremendous value for money but with late deals for Davinson Sanchez, Serge Aurier, Fernando Llorente and Juan Foyth making it an expensive window, keeping Spurs competitive in the current (crazy) transfer market will prove his biggest challenge. — Dan Kilpatrick
Follow @ESPNFC on Twitter to keep up with the latest football updates.