Marouane Fellaini has refused a new improved Manchester United contract, but the club will work hard to keep him and will not sell him in January, even though there's a risk the Belgian could leave for free at the close of the season.
Had that sentence been written a year ago, the majority of United fans would have laughed. Fellaini wasn't perceived to be that important to the team, his technical deficiencies were regularly exposed.
Fans always need a scapegoat and at United it was Fellaini. There were even ironic jeers when he came off the bench at Old Trafford against Spurs last December, though they quickly became genuine at West Brom a week later when fans recognised that it was wrong to boo a player and cheered him.
Fellaini wasn't stupid. He believed that fans would never take to him, that they associated him with the failed reign of David Moyes and his high transfer fee which he had little to do with. By January of this year he was actively looking at options to leave Old Trafford and chase the big money in China or Turkey. It wasn't like Real Madrid were after him.
But Fellaini has proved a lot of people wrong. He's felt a strong bond with Jose Mourinho from the start, a trust, a respect. He's not the only player who wants to perform for his manager. Knowing that, his confidence has risen and he's enjoyed his best spell at United. He was a starter in the Europa League final and he's improved even more this term.
In July, a Galatasary director went public with his club's interest in Fellaini. The bid felt a bit contrived, to push United along. A day later in Oslo, I asked Jose Mourinho about it and he was adamant that the player was going nowhere, that he was an important member of his squad.
They weren't hollow words. Fellaini has been missed in recent weeks, especially with fellow midfielder Paul Pogba out with injury. When United fans sing "Do, do, do, do, Marouane Fellaini" to the tune of Black Lace's inimitable "Do The Conga", they're not being ironic. They're doing it because they like him, because he has won their respect and admiration.
Fellaini deserves to stay, but let's not pretend he's a Pogba, Toni Kroos, Isco or Luka Modric class player who United should elevate to ridiculous a level of pay just because he is in a strong negotiating position.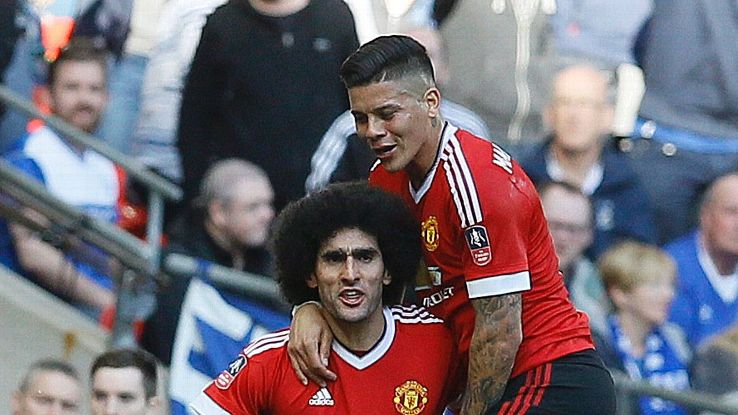 Fellaini is versatile, popular in the dressing room and around the club. He's also a week short of 30 and has his fair share of injuries — the current one a knee sprain picked up playing for Belgium that has kept him out for a month so far. If we're being picky, he's only started 92 games in all competitions in just over three seasons since his debut against Crystal Palace in Sept. 2013. He's started an average of 24 games over the last three seasons, and he's started only three games this season, but he's been effective coming off the bench and has scored four times. You could also argue that playing to his strengths as a target man doesn't make the football any more attractive, though his teammates do appreciate that he's always there to receive the ball.
Fellaini might move to Turkey and get a final big pay off if that's what is motivating him and his father, but he's not going to move to one of the best teams in the world and get in the side. He's settled and appreciated at Old Trafford and that's a situation most footballers in world football would covet.
The Belgian is in a strong position to negotiate, though. He knows he can leave on a free which makes him attractive to potential buyers. His Old Trafford stock higher than ever, he can use the strength of his relationship with Mourinho to his advantage. Mourinho would be highly irked if a deal can't be done for the player who'll have the World Cup finals to showcase his talents. It would annoy United fans if he left on a free transfer and was to be influential for a Belgium team which does well. And what would a replacement cost in today's ever-rising market?
Conversely, young, versatile (though very different in style) players in Fellaini's position like Andreas Pereira want minutes and keep leaving Old Trafford because they're not getting them. After proving, he's as ready as he can ever be and playing in a very good Valencia side who are second in Spain, Pereira either gets his chance soon or never.
Marcos Rojo is another player who has seen his United career revitalised by Mourinho. At the start of last season few United fans would have been too concerned if he left. By the time he suffered a cruciate ligament injury in April, he was considered a valuable member of the team. I've spoken to him a couple of times since his injury and he was in good spirits, progressing as expected in his recuperation.
Rojo played his first game in seven months against the under-23s of Athletic Bilbao in Manchester on Wednesday at Leigh Sports Village and did well in the first 45 minutes.
Rojo, 27 and under contract until 2019, will be welcomed back and while he prefers to play in a central defensive role, is unlikely to break the Phil Jones/Eric Bailly axis which Mourinho prefers in league matches, though he does switch formations.
Rojo could be used in the left-back position where he's played in all but one of his 54 games for Argentina. Or he can play in a three-man central defense, which Mourinho has used in the last two league games against Tottenham and Chelsea. He offers up more options in a defence which has been the best in the Premier League so far this season.
Fellaini and Rojo are both back from injury and fit to play, two players who've gone from derided to desired in a year. Injuries have been a factor in United's recent stumble, but the players, including Zlatan Ibrahimovic are on their way back. It's good to have them back, although in Fellaini's case, it may not be for all that long.
Andy Mitten is a freelance writer and the founder and editor of United We Stand. Follow him on Twitter: @AndyMitten.