Another installment of MLS Rivalry Week has come and gone. Here's who stood out for the right and wrong reasons.
Heroes
While they did get a win last season in a New York derby, there was a sense that this past Saturday's 2-0 victory in Red Bull Arena for New York City FC signaled a power shift in the Big Apple. NYCFC were clearly better than their city rivals, with Yangel Herrera and Alexander Ring dominating the midfield, while an organized, composed defense nullified Bradley Wright-Phillips. This was a far cry from the previous two seasons when the NYCFC back line was seemingly always a play away from imploding. Kudos to Patrick Vieira for a job well done here. New York is blue.
It's hard to recall a more unheralded first-place team in recent memory than this year's Sporting Kansas City. Much of the attention out in the Western Conference is understandably directed toward Cascadia, the L.A. Galaxy or talent-rich FC Dallas, but Peter Vermes' team continues to get the job done. It boasts arguably the best spine in MLS with goalkeeper Tim Melia, center-backs Matt Besler and Ike Opara, midfielders Ilie Sanchez and Benny Feilhaber and striker Dom Dwyer, and Saturday's 2-1 win over the Galaxy showcased that. The best of the West? You bet.
Chicago shows no signs of slowing. David Accam is the latest to step up in recent weeks, with eight goals in his past eight matches, including a hat trick in a 4-0 romp over Orlando City on Sunday. Best of all, the two goals before his penalty conversion were class goals. The first one came via a slick backheel, and the second an easy finish after sending Orlando defender Jonathan Spector flying into his own net. After scoring just nine goals all of last season, Accam already has 10 in 2017. A stunning turnaround.
In a world in which players try to dupe referees into issuing red cards, like Sergio Busquets' 2010 Champions League semifinal shenanigans or Kyle Lafferty's shameful flop that somehow earned Charlie Mulgrew a sending off, it was very refreshing to see what Haris Medunjanin did on Saturday in Philadelphia's 1-0 win over DC United. In the 74th minute, DC United's Luciano Acosta was given a red card for a supposed kick from behind on Medunjanin, but the Bosnian approached the referee, informing him that it was just a push, leading to the referee rescinding the card. Thank you, Haris. It would be nice to see more of this in the game.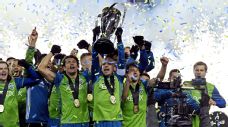 Subscribe to MLS LIVE today!
– MLS LIVE is back with an all-new platform for 2017
– Get the most matches ever, LIVE and ON DEMAND
– Packages start at only $14.99 a month
– Watch MLS on your phone, computer or TV
– Subscribe today at live.mlssoccer.com
Villains
A season after being an MVP finalist, Sacha Kljestan is struggling with the New York Red Bulls. Kljestan was completely ineffective in Saturday's derby loss to NYCFC, as Herrera all but canceled him out. Where was the energy? Wright-Phillips was starving for service. A benching still seems premature, but it has to be crossing head coach Jesse Marsch's mind.
There's just something not right about Dominic Kinnear's firing in San Jose. Kinnear got the pink slip from Earthquakes general manager Jesse Fioranelli a day after a 2-1 win over Real Salt Lake. That's the first oddity. Usually a job loss comes on the heels of a defeat. Truth be told, Kinnear's team struggled in the non-playoff seasons of 2015 and 2016, but at present the Quakes sit fifth in the West. Yet we are made to believe that Chris Leitch, who had served as the team's technical director, is the way forward. On the field, Fioranelli's decision doesn't add up.
Saturday was a rough day for LA Galaxy goalkeeper Clement Diop. The Senegal international had an absolute howler in a 2-1 loss to Sporting KC. First there was his, uh — how to put this kindly — "misread" of Roger Espinoza's shot from distance. Then, a delayed reaction in coming off his line as Ike Opara bicycle kicked right over Diop, whose hands were … at his side. One to forget, for sure.
The Portland Timbers can only kick themselves for letting 10-man Seattle score a late equalizer to earn a 2-2 draw on Sunday night. The Timbers should have finished off their rivals early in the second half, but they allowed Seattle to hang around and paid the price. Timbers fans have every reason to question the tactics of coach Caleb Porter. There was no press and no urgency against a team playing a man down and on a sweltering night. This is one that will stick to the ribs for a while.
Arch Bell covers CONCACAF for ESPN FC. Follow him on Twitter @ArchBell .