As a metropolis, Milan is on the rise again. It has been for the past five years. The skyline is changing, the architecture at the cutting edge. From the World Expo in 2015 to the Winter Olympics in 2026, the city is hosting one major international event after another. Named top of a list of 52 places to go by the New York Times four years ago, Milan's momentum is unchecked and the past decade has been compared with the booming 1960s.
The city's football clubs are not on top of the world, but if Milan exudes confidence at the moment, it's because these bastions of civic pride are exhibiting the necessary ambition to restore themselves to their former glory. Run at a loss in a pre-Financial Fair Play era by local fans-turned-owners who could no longer compete in a transfer market inflated with money from state-funded clubs like Man City and PSG, Milan's clubs experienced a painful transition.
Inter and Milan have changed ownership twice this decade. They are now in the "right" hands, it seems, funded by multibillion-dollar companies from China (Suning, which bought Inter in June 2016) and the U.S. (Elliot Management Company, which bought Milan in 2018). After years of full immersion, the newcomers to football have figured out who they want to be, what they need to do and how to be competitive. Mistakes have been made along the way, but little by little, Inter and Milan are figuring things out.
– Ames: Haaland headlines Champions League team of the week
– Robson: Lukaku lacking for Inter?
– Sheffield United owner: I'd do business with Bin Laden family
The rivals share a desire to build a new stadium adjacent to Saturday's venue, San Siro. In everything else though, Inter and Milan could not be any more different. Ten seasons on from the last of this city's 10 European Cups (only Madrid boasts more) something is stirring, making Saturday's 224th Derby della Madonnina — stream live on ESPN+, 9/21, 2:45 p.m ET — the must-watch game of the weekend in Europe.
Both sides spent big this year
Inter and Milan committed nearly €300 million to their teams over the summer. Six new faces at each club give them a vastly different look.
Inter broke their transfer record twice, first for Cagliari's all-action midfielder Nicolò Barella (€49m) and then for Romelu Lukaku (€65m), Belgium's all-time top scorer. From the outset of his appointment as manager on May 31, it was clear that Antonio Conte had a very precise idea of the players he wanted and the system he wished to play.
Diego Godin's arrival on a free from Atletico and Alexis Sanchez's loan from Manchester United — a clear and obvious redemption project following 18 dismal months — underlined Conte's desire for established names. He seeks high-profile footballers who are used to the big stage and the responsibility of delivering for elite clubs and nations. United, it's hoped, constitutes a blip in Sanchez's and Lukaku's careers.
Milan took a different tack, focusing largely on under-the-radar prospects with a high upside who can be developed into stars by coach Marco Giampaolo. The club's chief football officer, Zvonimir Boban, insists this is a worthwhile strategy, too: "Low profile does not mean a lack of ambition."
Midfield playmaker Ismael Bennacer stood out at Empoli last year and was named player of the tournament as Algeria won the African Cup of Nations in July. Fans are also curious to see what becomes of Milan's biggest signing, Rafael Leao, a precocious winger/striker who forms part of Portugal's new golden generation along with Joao Felix. It's notable that Milan's team is the youngest in Serie A.
Conte vs. Giampaolo: Serial winner vs. underdog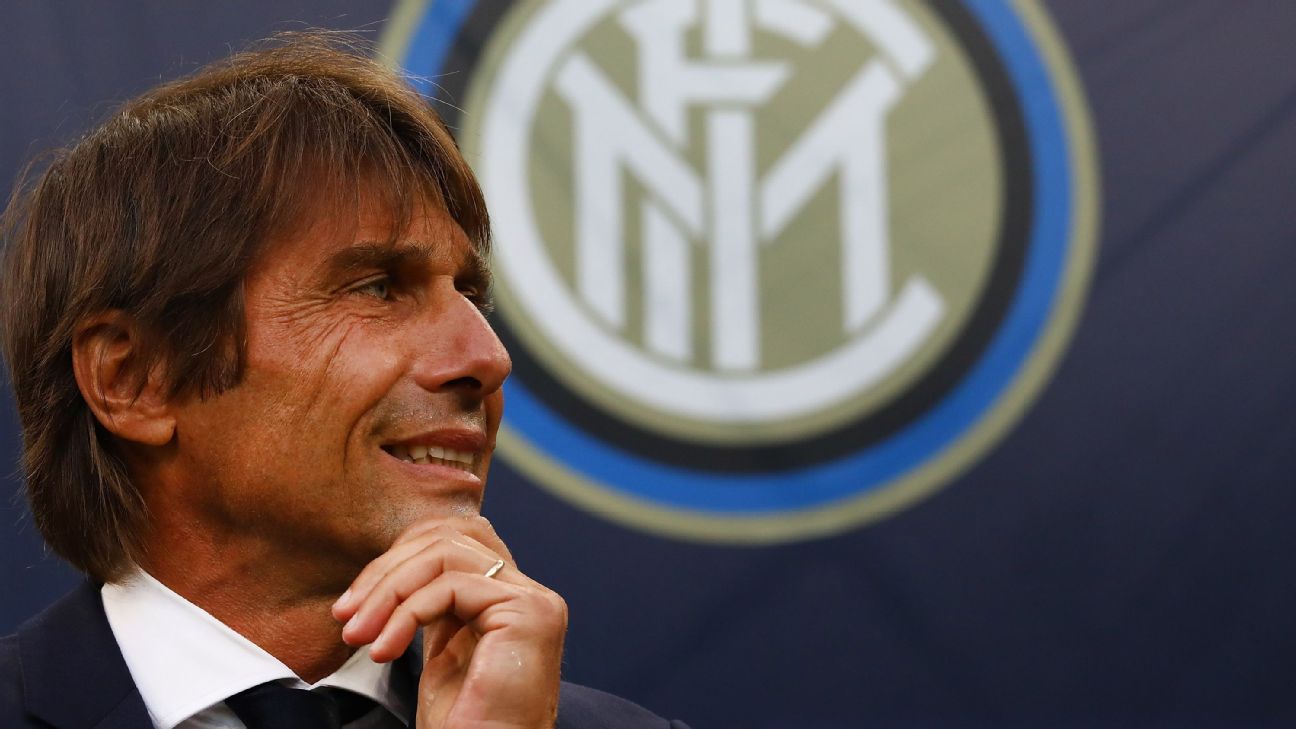 Leaving aside the €182.5m Inter spent on players this summer, they sacked Luciano Spalletti and his staff at an estimated cost of €26m and made Antonio Conte by far the highest-paid coach in Serie A. Paid €11m a year, almost double what Maurizio Sarri is earning at Juventus, he is Inter's star signing.
A serial winner, Conte wastes no time once he takes a job. The work begins immediately. He won the league with seventh-place Juventus, then 10th-place Chelsea in his first year at both clubs, besting Max Allegri and Zlatan Ibrahimovic's Milan in Serie A before outdoing Pep Guardiola's Man City and Jose Mourinho's Man United in the Premier League.
Inter dazzled on opening night this season against Lecce and are already alone at the top on maximum points. Recent performances have not hit the same heights but the team already feels like Conte's, something that can't yet be said of Juventus under Sarri and Milan under Giampaolo.
Milan's coach, by contrast, has won nothing in his career, but Giampaolo did seem long overdue for a big job given his career to date. His style of football captured the imagination at Empoli and Sampdoria. Sarri is Giampaolo's sponsor and he arrives with the blessing of Milan guru Arrigo Sacchi. Two wins from three looks good on paper but Milan's schedule has been easy. They've faced two of the three promoted sides and neither convinced nor created much. So far this season, Milan have played six halves of football and failed to record a shot on target in three of them, a far cry from the entertaining football expected. A big performance in the derby is needed to ignite Milan's season.
Inter's desperation to win the league for the first time in a decade is so strong that supporters are willing to overlook Conte's allegiance to rivals Juventus. He refused to bounce up and down when they chanted: "who doesn't jump is a Juventus fan" at an event last week. The Milan faithful will also give Giampaolo, a childhood Inter supporter, the benefit of the doubt if he takes the team back into the Champions League.
No Icardi, no problem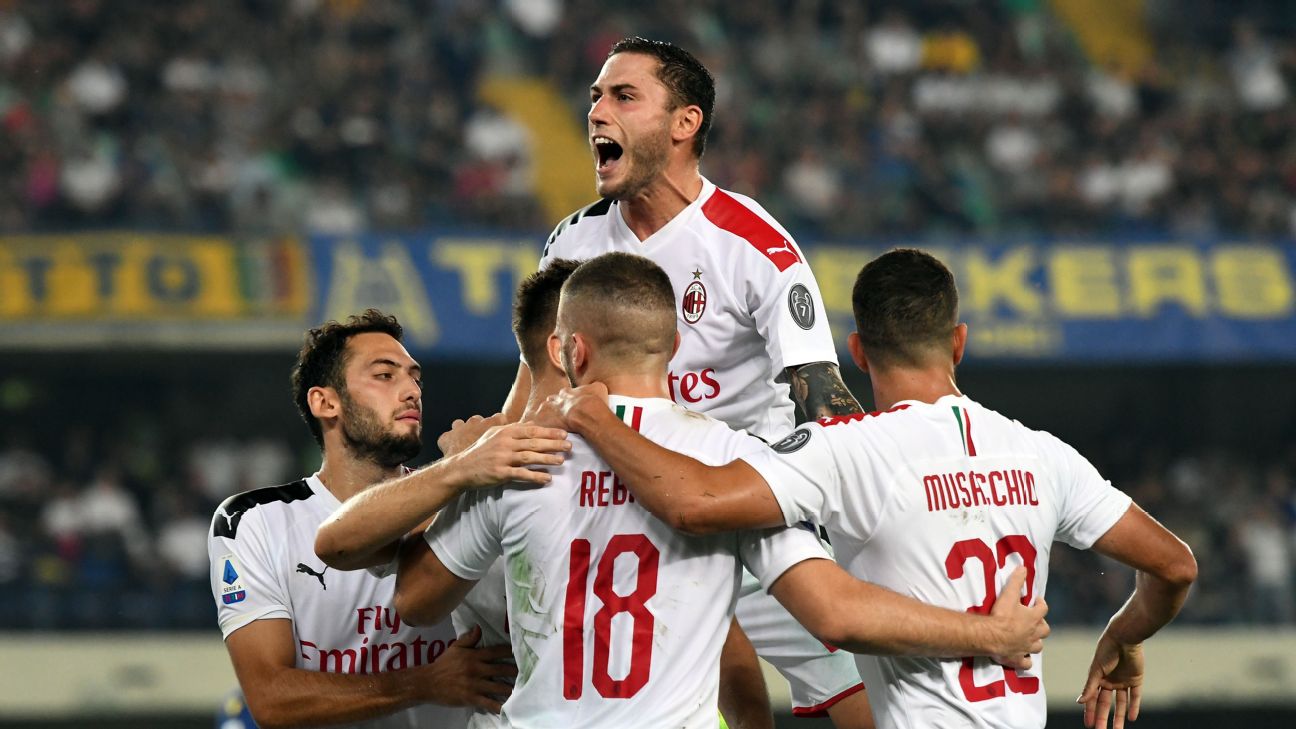 Milan are as glad to see Mauro Icardi leave Serie A as some elements of Inter's support. The Argentine gave them nightmares in recent editions of the Madonnina, scoring a hat trick two years ago and a stoppage-time winner last season. It's down to Lukaku to show he is up to replacing a player who, statistically, ranks as one of Inter's all-time greats. (Icardi is on loan with Paris Saint-Germain for the 2019-20 season.)
Conte resurrected Carlos Tevez's career at Juventus. He will try to repeat the trick with Sanchez at Inter, but the player Milan will worry most about is another new signing, Stefano Sensi. There hasn't been a midfielder to make this much of an instant impact at Inter since the Wesley Sneijder era began in 2009. Sensi, a diminutive and dynamic playmaker, has been Serie A's standout performer so far. He has scored in both Serie A games at San Siro this season and improbably headed in last weekend's winner against Udinese.
Milan goalkeeper Gigio Donnarumma will have to pay close attention every time he steps up for a free kick. The giant shot-stopper has also made an excellent start to the campaign, pulling off some great saves to deny Udinese's Kevin Lasagna and Brescia's Stefano Sabelli. Keeping him, and Suso, was arguably the best business Milan did in the summer.
Scrutiny continues to fall on Krzysztof Piatek. He was the revelation of last season — the Pole scored 33 goals for club and country — but question marks remain about his ability to back it up, particularly in a new system that does not appear suited to his game.