Matteo Guendouzi has always been looking forward. Even when he was 16 and one of the most promising talents in the Paris Saint-Germain academy, the midfielder was never satisfied with what he had already achieved — he wanted to progress even more.
That meant leaving PSG for Lorient in 2014 to have a clearer path to the first team. It didn't take Guendouzi long to establish himself there, but within two years he had another goal to aim for: getting into Arsenal's senior side.
Arriving at the Emirates in July 2018 as a virtual unknown outside his home country, at the tender age of 19, the Frenchman quickly went about impressing his new fans and has become a fixture under Unai Emery ever since. But his ambition is still burning strong. After making a name for himself in the Premier League, getting into the France national team became the next goal.
The World Cup winners already have a quality midfield, but Guendouzi was named as a replacement for the injured Paul Pogba ahead of the Euro 2020 qualifying clashes against Albania and Andorra this week and couldn't be more pleased.
"It was always a dream to be called up one day for the national team," he told ESPN FC. "I have played in all the youth teams since I was 16-years-old. I have worked so hard to get here, with the France A team. It is maybe a bit of surprise that he has arrived so quickly but I knew that if I was performing with Arsenal, one of the biggest clubs in Europe, then I would have a chance. My chance is now and I want to take it."
– Euro 2020 qualifying: All you need to know
– Giroud open to MLS move in the future
– Marcotti: Arsenal, Spurs not title challengers
Injuries to Pogba, Tanguy Ndombele, N'Golo Kante and Houssem Aouar certainly fast-tracked Guendouzi's call-up a bit, but there were plenty of other players that coach Didier Deschamps could have called on instead. The 20-year-old has earned his place.
"I was with the France under-21 squad at Clairefontaine, having a nap, when the coach rang me and said that I had to leave to move next door to the castle where the senior players are staying! I could not believe it at first," he said. "I thought it was some sort of a dream!"
Guendouzi quickly made his way next door and Deschamps was waiting for him with a little joke up his sleeve, as always. "I was told that you wanted to see the castle, so here you are!" the head coach said with a smile before wishing him well.
Deschamps has been carefully watching the midfielder develop for the past two seasons, including in last Sunday's 2-2 draw against Tottenham in which Guendouzi was the best player on the pitch.The 1998 and 2018 World Cup winner has been impressed by the youngster's ability to play as a complete midfielder — capable of defending, attacking, picking a pass and dictating the tempo. But, most importantly, it is Guendouzi's character (as shown with his fine initiation song below) which has earned him his place in the squad.
Comme le veut la tradition, Matteo Guendouzi et Jonathan Ikoné ont dû chanter devant le groupe hier soir ! 🎤🎶😄 #FiersdetreBleus pic.twitter.com/RWpsiQdiM5

— Equipe de France ⭐⭐ (@equipedefrance) September 4, 2019
"I have a strong temper with a lot of determination," he said. "I believe in myself and in my qualities. I don't take anything for granted because I know that only hard work pays off. That's why I am here. I really feel that I have improved massively in the last year or so. Tactically, I am more mature, technically and physically, I have taken my game to the next level."
This week, at training, Guendouzi has not looked out of his depth at all. In fact, a source told ESPN FC: "It looks like he has been in the setup for ever. He is comfortable, trains well and is a good character to have in the dressing room." Many of France's senior players have welcomed him with opened arms, too.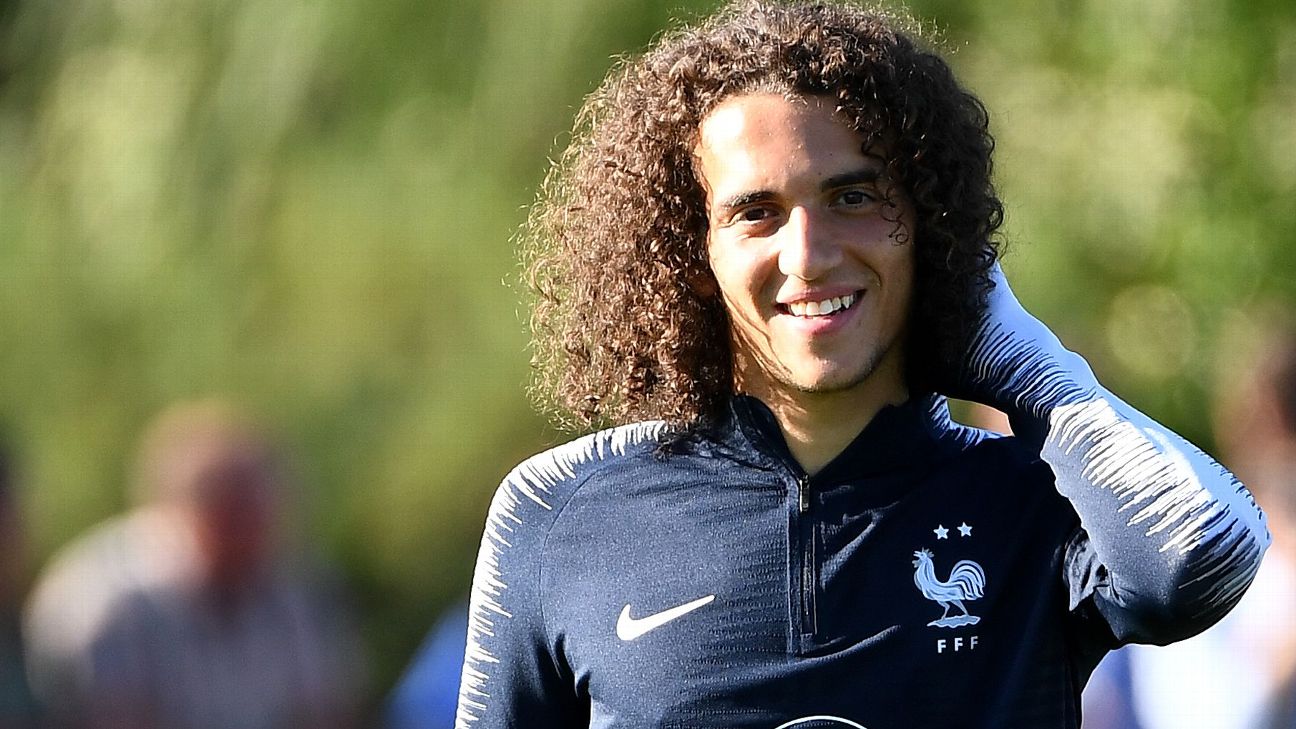 The hardest part has probably been to answer all the messages of congratulations that he has received after his call-up, including from his two closest friends and de facto big brothers at Arsenal: Alexandre Lacazette and Pierre-Emerick Aubameyang.
"I am sorry for all the people I haven't got back to yet, he smiles. It has been crazy," he added. "It was overwhelming because you see how happy and proud your family and friends are for you. You speak to them on the phone, they cry, they scream! It was a dream to wear this shirt and I will never forget this day."
On Saturday evening, the national anthem at the Stade de France before the game against Albania will be a very special moment for Guendouzi as a Paris born-and-bred kid who used to go there to watch his idols play.
Now his own moment has arrived. Of course, he will be hoping to get his first cap, even just for a few seconds in front of all his family and friends, but he will have another chance to do so on Tuesday, still at the Stade de France, against Andorra. And if it doesn't happen this time, Guendouzi will keep working hard to make sure he is back in the squad for the next round of qualifiers.
Just 18 months ago, he was playing for Lorient in the French second division. Now he's a star for one of the biggest clubs in Europe, set to make his debut for his national team at 20-years-old. Once he achieves that, one can only wonder what his next goal will be.