The outlook wasn't the brightest for Manchester United's Ander Herrera in August 2018. The Spaniard was entering into the last year of his contract – courtesy of an extension being activated, a process which was not made public. Herrera had all but lost his place to Nemanja Matic last season when he started only 22 games, exactly half his total from the previous season. Only 13 of those starts came in the league, unlucky for him as he scored no goals. And he had the prospect of Fred, another midfielder who cost £52 million, for competition.
Ten league matches later, things had hardly improved. Herrera had amassed a paltry 89 minutes of league football. Inter Milan asked about his availability, and could you have blame him for wanting to leave and play regular football?
Yet, while Paul Pogba and Marcus Rashford have been grabbing the headlines, Herrera has also shone under Ole Gunnar Solskjaer, starting nine of the last ten games in the league and played 845 minutes.
The 29-year-old is showing some form now he seems to have become a regular starter in a winning team. He's settled in Cheshire with his partner and their three-year-old daughter, his closest mates Juan Mata, David De Gea, Marcos Rojo and United's Spanish goalkeeping coach Emiliano Alvarez.
Unsurprisingly, Herrera's very happy under Solskjaer and wants to stay at the club beyond this summer. United want him to stay. There have been talks and offers, but it will be for the club to announce any news of a further contract extension. Inter, et al., can wait for now.
"He's a midfielder, it's a bit different to Paul, to Nemanja with their physical attributes," said an admiring Solskjaer of the former Real Zaragoza and Athletic Bilbao player after another impressive performance, against Brighton last Saturday. "But he runs and he runs, he wins the ball, plays it simple, he makes some good runs into the box as well. 
There was nothing in the rumours linking him with a return to Athletic Bilbao either. Herrera is thriving in an attacking system where United's players are encouraged to get forward and let their opponents do the worrying rather than the other way around. He's been able to show some of the touches which saw him labelled a fantasia player in Spain, one with unique creative attributes. United fans saw that when he played for Athletic Bilbao, beating United home and away in 2012, but have only seen it in flashes at Old Trafford.
Herrera (and Mata) recently met his former Athletic manager Marcelo Bielsa, the one who always insisted that attack was the best form of defence, for lunch in England. He'd love to play against his former boss as much as most Manchester United would like to see games return against Leeds United.
Herrera is popular with United fans too. Some didn't rate him, mocking his warm appreciation of English football; the culture, the fans and what it should be to play for Manchester United and questioning his talent. Paul Scholes' early December view that "You have to question the quality of the player" was not an isolated one, but that was judging a Herrera lower on confidence and regular football than he is now. Herrera loves being at United. Isn't it better to have players like that?
And he's decent. Would he be in a list for the top five midfielders in football? No. Would Darren Fletcher have been? No. Both are selfless team players who bring balance and bite.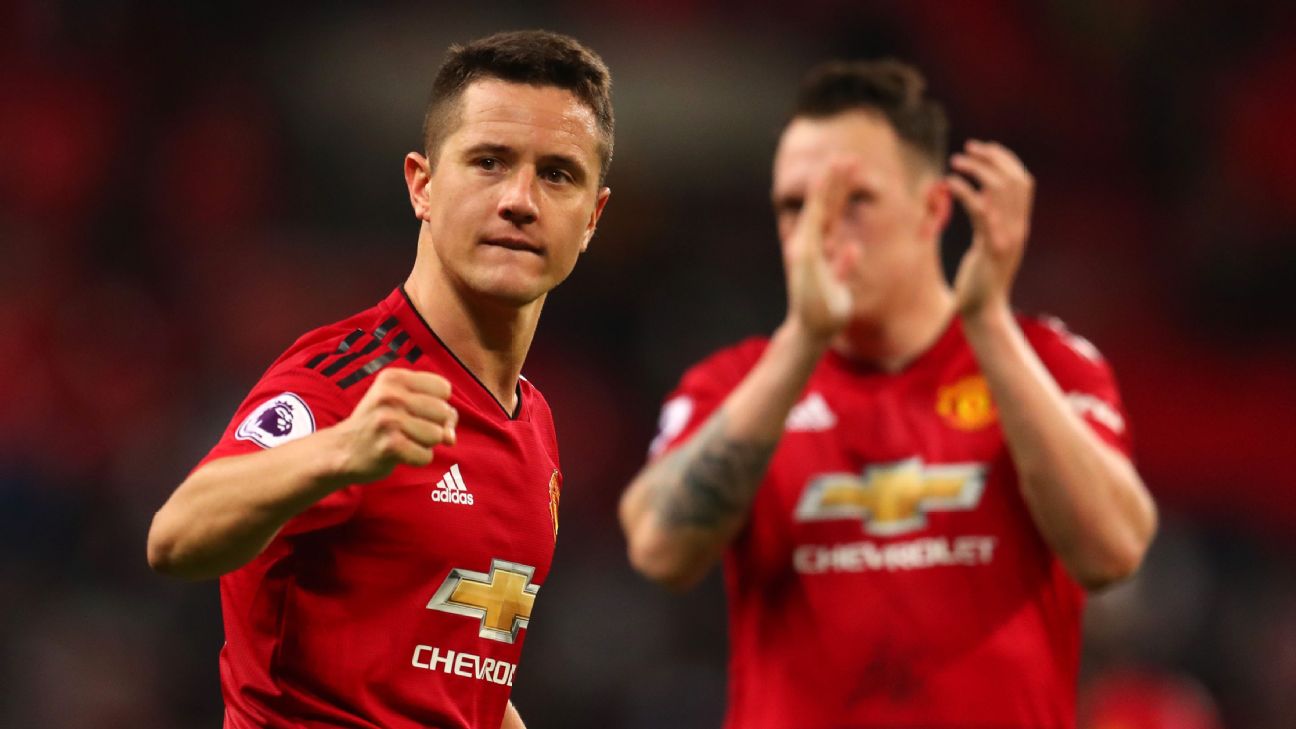 He's not Scholes' class, although he was superb in the FA Cup semifinal against Spurs last season. He only wants to play regular football. His two starts for Spain three years ago came after he'd played well for his club, but like others he suffered from the managerial revolving door and the ever-changing tactics and line ups at Old Trafford. Herrera was approved by David Moyes, joined to play for Louis van Gaal, then had to adapt again for Jose Mourinho, although in all that time, he's never played for anyone quite as crazy as Bielsa.
Herrera is unflashy off the pitch where he leads a quiet life — except when he watches his beloved Zaragoza with mates from the stands rather than the VIP areas. On the pitch, he's busy in a midfield three with Pogba and Matic at the base. That three beat Juventus away, yet Mourinho didn't play them together again in midfield.
Herrera likes and is benefitting from Solskjaer's insistence that the full-backs attack and push wide. This opens up the pitch. Herrera's job is to look up and get the ball forward or, in the words of Belgium manager Roberto Martinez, "look at wherever he's been, he's always made himself useful."
Herrera has now played more games at United than for all his previous clubs put together. He's fit, feisty and full of energy, he tackles and hassles opponents. He's perfect for Solskajer's pressing game and he knows that the Norwegian wants him to take risks and not be scared of the consequences. He won't be dropped for five games if he makes a bad pass. He's also versatile, can play in four positions and — in his mind at least — can score. He's managed two goals this season,
Like the other players, Herrera is once again enjoying training. He likes the big game buzz and the cultures of away days. He's got a huge match at Arsenal on Friday night. Herrera was one of the better players when the two teams met at Old Trafford last month in a spirited, entertaining, error-strewn 2-2 draw. Herrera set up a goal but United are in a much better place now, he's effective enough to help set up a win.