With draws for Chelsea, Arsenal, Tottenham and Liverpool, suspicions that this year's title race will be an exclusively Manchester affair are deepening. City made short work of poor Watford, and while Everton responded well to an early thunderbolt from Antonio Valencia, they were eventually vanquished by another one of United's unstoppable, late, late showers of goals.
At the other end of the table, Roy Hodgson's honeymoon with Crystal Palace lasted precisely six minutes. Still, it won't always be this hard, Roy. What's that? Manchester City, Manchester United and Chelsea all up next? Oh, dear. Oh, dearie me. After a month at Selhurst Park, it's just possible that those memories of Iceland in Nice won't seem so bad after all.
Performance of the weekend
We wondered how long it would take before Manchester City clicked. Well, 15 unanswered goals in three games suggests that the correct answer was 3½ games. Liverpool, reduced to 10 men last week, were blown away last weekend. Feyenoord, with 11 men, were blown away in midweek, and poor Watford caught the worst of it on Saturday, shipping six at home to Pep Guardiola's irresistible attack.
This doesn't mean they'll automatically win the title. There's a long way to go, and titles are won with consistency more than with flair. But with Kevin de Bruyne in "player of the year" mode and the duo of Sergio Aguero and Gabriel Jesus singing in harmony, it'll take something special to stop them.
Goal of the weekend
Poor old Everton. Clearly, they set out with the intention of sitting deep, packing their half with blue shirts and frustrating Manchester United until they became complacent and susceptible to the counter-attack. It was a strategy that worked for just less than four minutes. Antonio Valencia can rarely have hit a ball so cleanly or with so much power. Even Jordan Pickford, the brightest light in Everton's dim campaign so far, had no chance of reaching it.
Miss of the weekend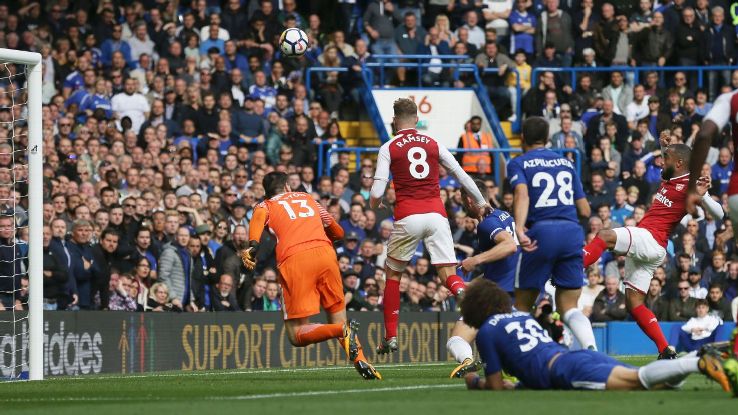 It's been nearly six years since Arsenal last took so much as a point from Stamford Bridge, and they've scored there only twice since that extraordinary 5-3 win in 2011. Scoring opportunities in that arena are not to be spurned lightly. And yet Alexandre Lacazette did exactly that on Sunday afternoon, wellying the ball over the bar from close range when Aaron Ramsey hit the post in the first half.
More worrying than Lacazette's miss, however, was Alexis Sanchez's reaction. Was he … laughing? Ah well, can't blame him for being human.
Why don't they learn?
Jurgen Klopp defended his team in midweek after sloppy defending cost them a crucial victory over Sevilla and, three days later, sloppy defending cost them a crucial victory over Burnley, as well. It's almost as if there's some sort of prevailing theme to their season. The Reds have managed just two clean sheets in eight games this season, and it's just possible that Ragnar Klavan, Dejan Lovren and Joel Matip might not all be of the required standard for a title push.
Klopp is going to have to do something to improve this defence because the patience of the Liverpool fans won't last forever.
Statistic of the weekend
5 – Crystal Palace are the first side in English top-flight history to open the season with five defeats and no goals scored. Woe. pic.twitter.com/umoc2RwDdb

— OptaJoe (@OptaJoe) September 16, 2017
We all knew that Crystal Palace had made a bad start to the season. But did anyone suspect that it was the worst start ever? Did anyone have an inkling that no team, of the 2,465 incarnations of teams to have started top-flight seasons, had ever lost their first five games without scoring a goal? It's a record that stretches back to England's first season in 1888, a time when players wore trousers and heavy cotton shirts, the football weighed the same as a family car (two family cars when it was wet) and there were no crossbars. We're actually quite impressed.
Bad day at the office
You have to respect Marco Silva for his optimism. Beaten out of sight by Manchester City, the Watford boss calmly dissected the game afterwards. "I think the first goal was offside, the second goal we made a big mistake and maybe the third goal is offside, too; this is the truth," he said. Fair enough, Marco. It was just a bit of bad luck then.
Tactical masterstroke of the weekend
It was looking bleak for Bournemouth when manager Eddie Howe turned to Jordan Ibe and told him to get warmed up. The Cherries had dominated possession, but without ever causing Brighton serious problems, and they were heading for their fifth successive defeat. Ibe changed the game in a matter of minutes. First, he released Andrew Surman with a bold back-heel into the Brighton penalty area. Then, he put Jermain Defoe through for the winner with a deft pass. At £15 million, Ibe had looked an unwise investment until Friday night. Now he has finally offered value for that money.
Bad deal of the weekend
Costing me a fortune , from his academy days at nffc, it's always been a fiver a goal 😩

— jill lascelles (@JillLascelles) September 16, 2017
You have to be really careful with what you promise your children, certainly if you're the mother of Jamaal Lascelles.  Promise them ice cream if they behave and you'd better make sure the freezer is stocked. Promise them £5 per goal when they're young and you really should put a time limit on the offer just in case they become a professional footballer and hit an unlikely purple patch, smashing home two match-winning headers in six days.
Mrs. Lascelles is already £10 out of pocket for September, and if her son and Newcastle keep prevailing at set pieces, she may wish to consider taking out a loan.
One to watch next week
Sending a Crystal Palace side that hasn't even scored a goal this season to Manchester City is tantamount to lowering a very plump lamb into a pool of particularly peckish piranhas who were a bit too busy for breakfast and got stuck in a meeting until 2 p.m. and were, until this moment, giving serious thought to eating pebbles.
The current record victory in the Premier League era is Manchester United's 9-0 win over Ipswich in 1995. Let's see how long that lasts.
Iain Macintosh covers the Premier League and Champions League for ESPN FC. Follow him on Twitter @IainMacintosh.