After each round of Premier League fixtures, ESPN FC brings you its Team of the Weekend. Our panel of experts carefully selects 11 star performers, along with a manager.
Do you agree or disagree? You can have your say on those picked or overlooked in the comments section at the foot of the article or on Twitter using the hashtag #TOTW. Plus, tune in to Monday's ESPN FC show (5:30 p.m. ET, ESPN2) for further reaction.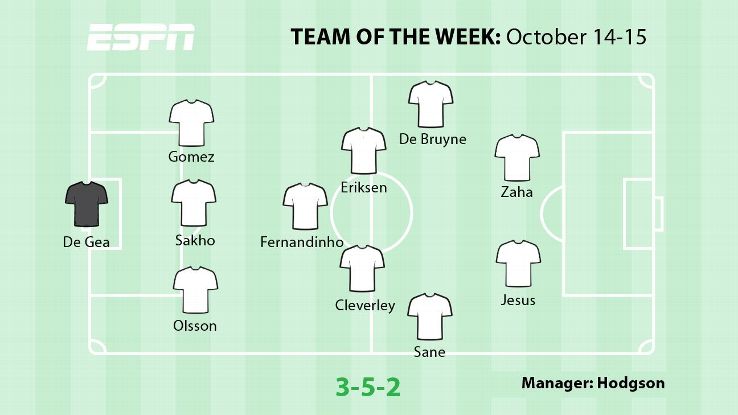 Goalkeeper: No wonder Real Madrid remain interested in Manchester United's David De Gea. Time and again he makes the big saves at the big moments, and Saturday's 0-0 draw at Liverpool was no exception. A phenomenal first half stop denied Joel Matip the breakthrough as United took a point, with De Gea's handling impeccable throughout. Former keeper Shaka Hislop says: "With one save, De Gea showed why I believe he's the best." Paul Mariner admires "the magnitude of the save," and Mark Ogden says: "He proved his status as the Premier League's No. 1." A unanimous choice.
Defence: So this is why Crystal Palace were so keen to bring Mamadou Sakho back to Selhurst Park, with the defender showing the form that was so pivotal for them last season. Sakho set the best of examples as the sun shone on Palace at last, with his determination at the heart of a defensive performance of real grit. Sakho won challenge after challenge in Palace's 2-1 win over Chelsea but still found time to create the winning goal, stealing possession and threading the ball through to Wilfried Zaha. "A pure defender — and his performance was crucial," says the admiring Ogden.
Defence: It may not have been one of the day's glamour fixtures, but Swansea's home win over a Huddersfield side beginning to falter could turn out to be one of those very important ones. The Swans kept a clean sheet but had to withstand some spells in which their own jitters and some slick passing from the visitors threatened to undo them. That they weren't undone owed a lot to Martin Olsson, who produced one of his best performances of the season and combined defensive alertness with a desire to augment the attack. "Brilliant in his defensive duties, offered a threat going forward, a clean sheet and a vital three points," is Mariner's verdict.
Defence: It was certainly a game for defences at Anfield as Joe Gomez produced a fine performance for Liverpool. The youngster was tremendous and saw off a double United threat, with neither Anthony Martial nor his replacement Marcus Rashford able to find any joy down the left. Gomez was also unafraid to venture forward, playing some dangerous balls in and showing an assured touch in possession. "The Liverpool youngster was trusted by Jurgen Klopp and he didn't put a foot wrong," Ogden notes.
Midfield: While Manchester City's attackers took the plaudits in their 7-2 win over Stoke, we shouldn't forget the role played by Fernandinho, whose ability to win the ball and keep things moving swiftly set Pep Guardiola's forwards in motion. Fernandinho did what he does best, helping to maintain City's waves of forward momentum, and contributed a stunner of a goal from outside the box. "An underrated member of City's star-studded midfield," notes Ogden, while Mariner says: "In the holding role, there are none better," and an admiring Hislop asks: "Is there anything this defensive midfielder can't do?"
Midfield: Watford's excellent start has gone under the radar a bit, but their win over Arsenal showed the new style manager Marco Silva is instilling at Vicarage Road. They appear a more determined proposition, mixing the measured and the direct to excellent effect. Tom Cleverley's range of passing helps them do both, and he kept things ticking along beautifully as Silva's side bounced back from behind to win 2-1. Not only did he recover from the disappointment of losing Per Mertesacker for Arsenal's opener, he arrived to blast home the stoppage-time winner. "Continued his impressive start to the season with the vital goal," says Ogden, while Hislop praises a fine midfield performance.
Midfield: Tottenham will be feeling a lot better after their first Premier League win at Wembley arrived against Bournemouth. But they didn't make it easy for themselves — even Harry Kane's infallibility in front of goal temporarily deserted him. But none of that was a problem because Christian Eriksen was in the mood, dictating the tempo to great effect, hardly misplacing a pass and conjuring a coolly taken winning goal to avert the threat of yet more "Curse of Wembley" headlines. "His overall contribution is immense — creativity allied with hard work," says Mariner, and Hislop enjoyed another stylish afternoon's work from the Denmark international.
Midfield: Kevin De Bruyne is "head and shoulders" above the rest of the Premier League said Stoke manager Mark Hughes, who had to look on as a De Bruyne-inspired City smacked seven goals past the Potters. The Belgium international, making his 100th City appearance, hit new heights with sublime passing (his through ball to Leroy Sane in the build-up to the second goal was stunning) and intelligent movement. "His eye for a pass and his weight of pass are worth the entrance fee," says Mariner, while Hislop hails "the best player in the league — bar none" and Ogden is left drooling over "an awesome display."
Midfield: After their seven-goal showing, it's no surprise to see another Manchester City player in the lineup, with Leroy Sane another to have started the season at the peak of his powers. As City rampaged, Sane bamboozled with his twisting, turning bursts, guiding in a succession of dangerous crosses. He added a goal with a neat finish bringing the home side their sixth. Ex-striker Mariner — who would have loved to be on the end of those crosses — says: "Sane terrifies defenders with his pace and has a final product, whether that is finishing or as set-up man." Ogden adds: "Scored one, made another in another big City win."
Forward: What a difference the return of Wilfried Zaha made to Palace as they woke up from their seven-game run without a goal or win. Local lad Zaha played as an emergency striker, responding with a brilliant performance as Palace stunned the champions. To say he galvanised the Eagles would be an understatement — he was a whirl of adventurous play, taking on defenders as though his life depended on it. You could see the lift that gave his teammates, and he capped it all off with the winner. "At his best as an attacking force," says Ogden, and Hislop adds: "Just like that, there is a belief in South London again. I haven't seen anyone torment Chelsea's defence like that for years."
Forward: It must be an absolute joy to play as a forward for City at the moment — no wonder Gabriel Jesus seems so happy in his work. His clever running was just another nightmare for overwrought Stoke to try and deal with, and after opening the scoring he added his side's fourth after the visitors had reduced a 3-0 deficit to 3-2. Mariner enjoyed the show, saying: "No Aguero? No problem — Jesus' awareness and movement are amazing for someone so young." Ogden is in agreement, praising another high-octane performance from the Brazilian.
Manager:  It's hats off to Palace and manager of the week Roy Hodgson. Gone was the fatalism that saw Palace chasing shadows at Manchester United not long ago and had Hodgson comparing them to "a boxer fighting in a class he's not able to handle." Instead, they snapped, chased and created to get the Selhurst Park crowd believing again. "Still has a big job to do, but beating the champions is a great way to start," says Ogden, while Mariner is full of praise for the way Hodgson "organised the team, set them up and gave them the confidence to express themselves."