LIVERPOOL — Jurgen Klopp has defended his postmatch comments following the weekend's Merseyside derby, insisting he did not say anything that he wished to retract.
In the aftermath of Liverpool's 1-1 draw with Everton on Sunday, Klopp disputed the controversial penalty that Dejan Lovren conceded in an interview with Sky Sports' Patrick Davison, saying he wanted "to talk to people who have a little bit of an understanding of football" before apologising at the end.
At his postmatch news conference, the Liverpool manager then asked journalists in the Anfield press room to raise their hands if they thought referee Craig Pawson's decision was correct, with the majority of the room signalling their belief that the awarding of the spot kick was right.
Speaking at a news conference on Tuesday afternoon, Klopp said: "If I would give the same interview now, I think the information I had to give would be the same.
"But of course, now I am completely relaxed, but it was five minutes after the game, so I was not relaxed.
"You look in the eyes of the journalists and you see they're not interested in what you feel, and I know that already, but sometimes it feels not too cool and that's why I reacted the way I did.
"I didn't use any words I have to take back or whatever. I don't like it, but I'm pretty sure I can't change it. I felt like this in the moment and I'm not an actor, so I cannot act differently.
"Meanwhile, I can keep myself calm in situations like this so that nothing serious happens — it's just an interview. I don't think anybody really remembers it, to be honest, and would watch back and say: 'Oh my God, that was hilarious or legendary.' It was just an interview, nothing else."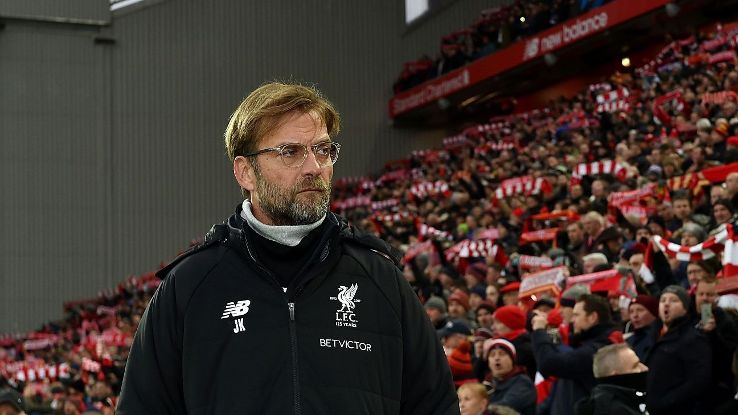 Speaking to preview West Bromwich Albion's visit to Anfield on Wednesday evening, Klopp says one or two Liverpool players are battling fitness concerns ahead of the match.
"I know we play tomorrow, but it's still not 100 percent clear," he said. "We have a few knocks and we still have to wait a little bit to see how they'll deal with that.
"[There's] nothing serious after the last game — serious in the sense of long term — but for one or two it is possible that the time will not be enough for the West Brom game. We have to see.
"It is how it is after games like this. There were hard challenges in the game. Always in this short term you always need to judge: is the muscle they feel an injury or is it just intensity?
"For that, you need pretty much each minute until you can judge it — and that's what we will do."
However, Alberto Moreno (ankle) and Joel Matip (muscular) remain sidelined through injury, while Adam Lallana is continuing to build up his fitness from a long-term thigh issue.
"He's not ready for sure — no chance," Klopp said of Moreno. "We will make further assessments in the moment, we will send him to different doctors just to know a little bit more.
"It's still possible it's not that long, it's possible it is up to six weeks. We will have to see. It's really not decided so far, so we need to have a further look on it. Joel is not in training. He is running, nothing more. That means it takes a little bit longer.
"Adam is back in training completely normally but of course he needs to build up again. That's how it is.
"But he is good. He trains completely normally. We have to see what we do with him because we need him for the next few weeks, 100 percent.
"We should not need him for tomorrow but then, step by step, we need to see how we can bring him in match fitness shape. That's it. We have to see, but he is in a good way."
Meanwhile, Klopp says there has been no movement on the future of Emre Can or whether the Germany international has agreed terms with another club.
Can's Liverpool contract expires at the end of the season, which means the midfielder is free to talk with other European clubs from January.
"Whatever I could say about that is not for the press conference," Klopp said. "We spoke about it already and I said he can still sign [a new contract], the only difference from January is that he can also sign for another club, that's all.
"For us, there is no difference as long as we don't get the information that he's signed for another club, there's nothing to say about it.
"It's exactly as it was. And I speak a lot to Emre, like the other players too, but it's pretty rare that I speak to him about the contract situation because we gave already all the information that we can give — that's it."
Glenn is ESPN FC's Liverpool correspondent. You can follow him on Twitter: @GlennPrice94.