TURIN, Italy — Maurizio Sarri's predecessor at Juventus, Massimiliano Allegri, liked to say, "If you want to be entertained, go to the circus." To him, the result tended to be all that mattered. How Juventus arrived at it obviously held an importance. Allegri never wanted the team to put in a bad performance, as those catch up with you in the end, but winning ugly never bothered him.
By contrast, Sarri goes into games wanting to experience exactly what many supporters buy tickets to see. He demands that his team excite and captivate. Saturday's 4-3 win against Napoli certainly delivered in that regard. It will live long in the memory, as this rivalry hadn't seen a game like it in more than a quarter of a century. The last seven-goal thriller between Juventus and Napoli came in 1993.
You'd think that Sarri, still recovering from pneumonia, left the Allianz Stadium content with what he saw. But Sarri and Allegri are more alike than people think. The 60-year-old is not a wild card manager like Zdenek Zeman. He likes to attack, attack, attack, but balance and control figure more highly on his agenda than they ever did on the Czech's. That much became clear when Sarri's assistant, Giovanni Martusciello, revealed what his boss thought of the game. "He says you lot will be pleased with the seven goals. He wasn't at all, though. He would have preferred to win 4-0."
– Stream a replay of Juventus vs. Napoli on ESPN+ (U.S. only)
– Report: Roma, Lazio split points in derby
– The untold stories of Maurizio Sarri
Sarri's opposite number, Carlo Ancelotti, did not give the impression that he had much fun either, despite watching his team come back from 3-0 down to be level at 3-3 in a stunning, 15-minute spell in the second half. Losing in stoppage time did not explain his glum demeanour. "I would have been disappointed even if we'd drawn," he said afterward.
The reactions of both coaches offered a reminder that what we find pleasurable to watch isn't always a joy to them.
Sarri was "ticked off" last week because Juventus should have taken more than a 1-0 lead into the break in Parma, and the same was true on Saturday. The Old Lady could have been 4-0 up at the interval. Sami Khedira failed to take advantage in a 1-on-1 with Napoli goalkeeper Alex Meret and hit the bar shortly afterward. As at the Ennio Tardini, Juventus faded fast after an hour. For some, it's a concern, but it's still early in the season, and not everyone is up to speed yet from a physical perspective. The heat is a factor, despite the late kickoffs, and besides, Martusciello put it down to Juve's new approach.
"The initial idea we had of this team [from last season] was one based on defending deep and then hitting teammates on the break while also having the ball. It's one thing playing a possession game in your opponent's half and another in your own. We're shifting toward pushing up and defending [not backing off]. It's not something that catches on in a month."
The team is pressing higher for longer than under Allegri. Lasting 90 minutes at this stage of the season at that intensity is not easy, so tiredness and a sense that the game was over allowed Napoli back into the game.
Unusually for them, Juventus conceded twice from set-pieces. Matthijs de Ligt, Juventus' €75 million signing from Ajax, had a debut to forget as he stood in for the team's captain and last week's match winner, Giorgio Chiellini, who tore his ACL on Friday. In consolation, the Dutchman was not the only highly regarded centre-back to suffer.
Two years after scoring a dramatic stoppage-time winner at the Allianz Stadium, Kalidou Koulibaly was at it again. Unfortunately for him, the outcome was different this time around, as the reigning Serie A Defender of the Year quite incredibly scuffed a routine clearance, under no pressure, into his own net. Turned inside out by former teammate Gonzalo Higuain for Juve's second goal, the Senegal international's uncharacteristically poor display was excused by Ancelotti, who alluded to the little time off Koulibaly had over the summer and the difficulties he is experiencing after missing and losing the African Cup of Nations final.
On paper, Napoli have two of the best defenders in the league now that Kostas Manolas, the €34 million summer signing, is partnering Koulibaly. In practice, though, it hasn't shaken out quite as expected. So far, the team has leaked seven goals in two outings, making it Napoli's worst start to a season, from a defensive point of view, in 57 years.
Guilty of starting slowly in Florence last week, Ancelotti lamented the absence of "ferocity" in his side when Juventus were on the attack. He questioned his players' sacrifice. Napoli could and should have made it harder for Higuain and Cristiano Ronaldo's goal: They had enough bodies back and around them to shackle and block. Instead, it was too easy, and the passivity Napoli showed while Khedira set himself to fashion a shot against the crossbar was damning. The electric Douglas Costa would also have an effort tipped onto the woodwork by Meret, an exceptional save, which was more or less Juve's final attempt on goal until Koulibaly's miscue.
That final goal was one of a host of jaw-dropping moments that turned this game into an instant classic, and the opener serves as a case in point. Napoli thought they had scored, only for Wojciech Szczesny to turn Allan's curling attempt brilliantly around the post. Mattia de Sciglio hobbled off before the corner was taken, replaced by Danilo. A routine that Ancelotti had worked on in training came off, insofar as it was supposed to lead to an open shot from the edge of the box, which it did, only for Leonardo Bonucci's face to get in the way. Pouncing on the loose ball, Danilo started and finished a counter-attack, scoring his first goal for Juventus just 29 seconds into his debut.
In the blink of an eye, Napoli were 2-0 down. The trickery from Higuain to get around Koulibaly and create an angle for a shot showed him at his very best. A bigger story than Pipita scoring against his old team, though, is how much we had become used to thinking of Juventus as his old team too.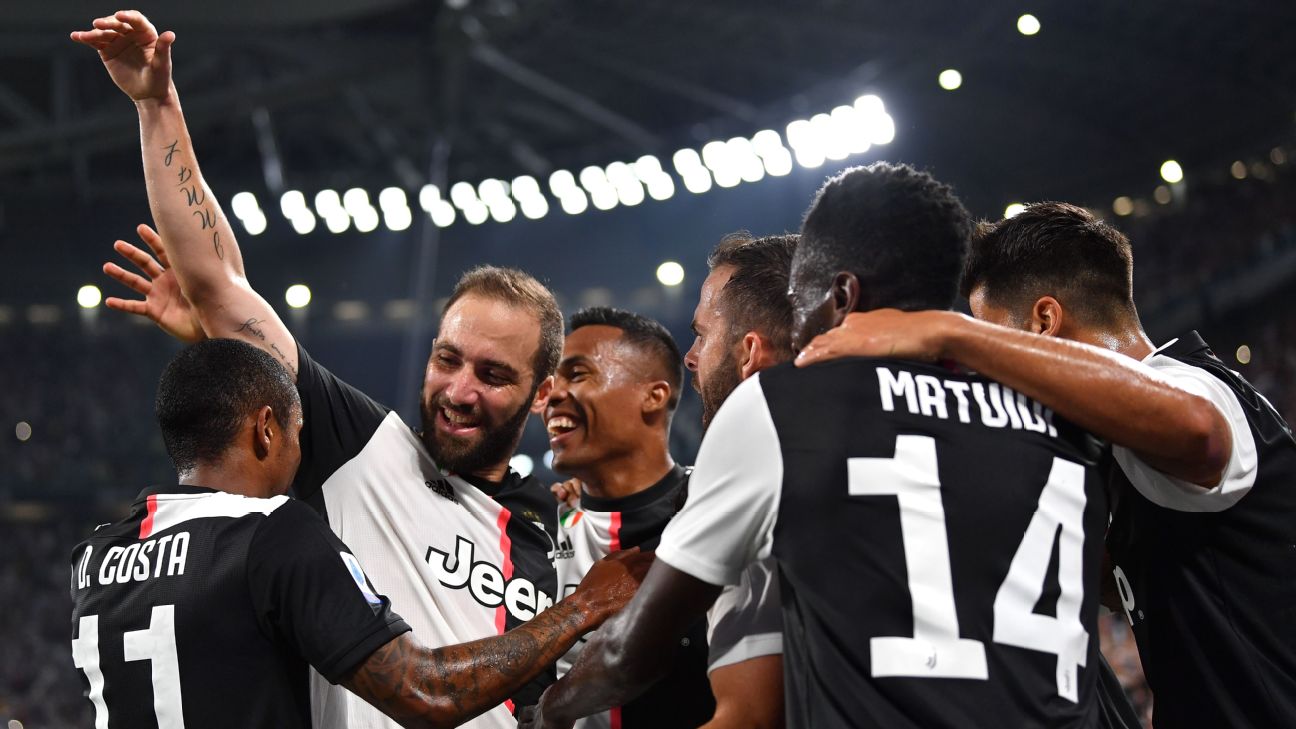 The same goes for Costa. Last weekend was his first start since February. Suspensions, car wrecks and partying with Neymar all seemed to spell the end for him in Turin. Yet Costa has been Juventus' most creative and decisive player under Sarri.
World Cup winners Blaise Matuidi and Khedira didn't strike observers as natural fits for the new manager, either. It looked like their time at Juventus was up, but rather than sidelining them, Sarri and his staff have decided to coach them.
"There were preconceived ideas about some of the players, and we've been working on their game," Martusciello said. "We've been pleasantly surprised by how well three or four of them have done in doing what we've asked of them."
Matuidi, for instance, spent the end of warm-up working apart from everyone else, polishing quick, one-touch passes — a shortcoming of his game — while his teammates ran through a shooting drill. Ancelotti identified him as the key to Juve's win, particularly in the first half. The combination of his energetic pressing and the spaces he kept dashing into behind Fabian Ruiz caused the visitors no end of problems.
For Napoli, there were positives too. As in Florence, they showed character to come back from so far behind. Hirving Lozano came on and made a double impact. Not only did Napoli's record signing continue his remarkable record of scoring in every debut he has ever made, but he also allowed Dries Mertens to get into the game by drawing attention away from him.
On the eve of the match, Ancelotti argued that no matter what happened in Turin, definitive conclusions cannot be drawn at this stage. Even so, he believed it would still be "indicative." The biggest indication the league has given us the first couple of weekends, though, is that this season could be pure, crazy fun.