MANCHESTER, England — Substitutions involving Anthony Martial can be controversial; Jose Mourinho knows that better than most. In October against Tottenham, he was booed when bringing on the French forward, who subsequently scored the winner, allowing United's manager to savour the vindication.
Fast-forward four months to Sunday's game vs. Chelsea and there was a case to be made that Martial had been the brightest of Manchester United's seemingly mismatched front four when his number came up after 64 minutes. Despite that, Martial exited, replaced by Jesse Lingard, and the game changed.
First, Alexis Sanchez adopted the sort of position Martial had previously occupied by drifting out to the left and supplying Romelu Lukaku with a cross that United's No. 9 almost converted acrobatically. Minutes later, Lingard, having taken up Sanchez's spot further right, bounced into the Chelsea box to head the winner from Lukaku's centre.
The notion of Mourinho as a match-winner was burnished in his first spell as Chelsea manager and, perhaps, it was revived by this second-half rejig. The substitute scored for a recalibrated side and a comeback was completed. United's manager was the problem solver, though he might also have been its creator.
He attributed his side's initial struggles to difficulties adapting to new demands and a different shape. Chelsea can bring out the unorthodox in Mourinho; as though he fears Antonio Conte can dissect his preferred formation. Rewind 10 months, for example, and he fielded a back three, with Ander Herrera man-marking Eden Hazard.
This time the unexpected that he unveiled lacked width but boasted a surprise factor. Mourinho won the Champions League in 2004 with a diamond at the heart of his team and, 14 years later, he had a square.
"The players in the midfield square took a bit of time to find the right timings to press," he said after a game in which United almost played in tramlines, with a 4-2-2-2 formation placing blocks ahead of each other along the centre of the pitch as Mourinho packed the middle to crowd out Chelsea.
There were times when Nemanja Matic was following Willian and Scott McTominay was following Eden Hazard. There were moments when Sanchez seemed N'Golo Kante's designated man-marker, a flair player chasing a workhorse.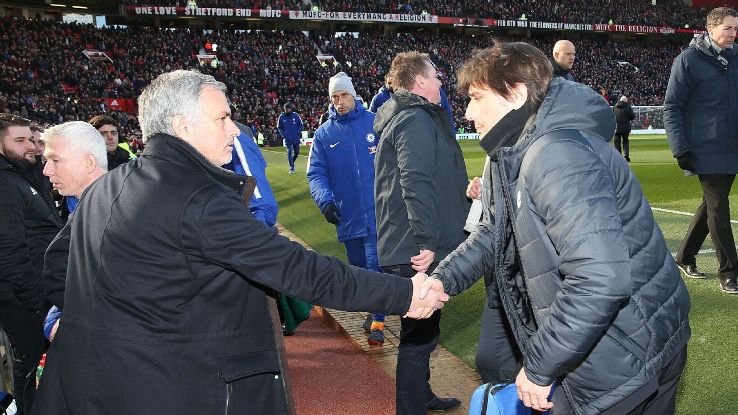 It highlighted the reactive, cautious nature of Mourinho's management; strategies constructed with the opposition in mind, an intent to stifle prevailing over a determination to play. In any case, the difficulty was putting theory into practice and its designer implied the masterplan was compromised by human failings.
"We [managers] are the best with the pen and the paper when we define our game plan and model of play," he said. "We are all the best and our model is perfect. On the pitch, things are sometimes a bit different."
On the pitch, it felt as though Chelsea were only inconvenienced by Martial's propensity to wander out to the left wing, even if the narrowness of United's shape, as well as a rare bit of close-combination play, led to Lukaku's leveller following Willian's opener for Chelsea.
"The contribution of Matic and McTominay was crucial to control Hazard and Willian," Mourinho said, though Chelsea's inside-forwards combined for the Brazilian international's counter-attacking goal.
Hazard and Willian's United counterparts were Sanchez and Paul Pogba, supposedly superstars but who seemingly started in proverbial straitjackets. Pogba wriggled out of his for a couple of counter-attacks, while Sanchez ended up playing a part without being anything like as destructive as he was against Chelsea in last season's FA Cup final.
"It took us some time to adapt to [the system] but from that they were really intelligent and I am really happy with that," said Mourinho. "Progressively the players were understanding the changes."
Conte's rather more familiar blueprint had looked better to begin with. His tactical nous was apparent against Barcelona in midweek and again at Old Trafford. His team seemed the more progressive of the two on display and were denied reward by a Lukaku-inspired fightback.
But if Mourinho seemed to have an effective Plan B — and, indeed, Plan C, with Eric Bailly coming on as a third centre-back to combat the height of Olivier Giroud — that might not be said of Conte, which might underline the merits of his complaints about Chelsea's recruitment.
A different verdict might have been drawn had an equaliser stood when Alvaro Morata finished from the substitute Cesc Fabregas' pass, but the striker was deemed offside and Conte launched into an ode to VAR.
Perhaps, given United's greater resources, it is only natural they seemed to boast more strength in depth than Chelsea. Yet Mourinho's substitutions worked and Conte's did not, an impression that was compounded by the sight of the catalytic Hazard departing with 20 minutes to go.
"A tactical decision," said Conte. "I think he finished his energy. Because in the first half he ran a lot and in the second half, he started the same way but when I see a player is a bit tired, my task is to find a different solution."
But the game's decisive solution came in the shape of the exuberant Lingard, who scored two minutes after Hazard's withdrawal. Maybe United won because of Mourinho's left-field tactics, maybe it was in spite of them, but victory allowed him to claim the credit. That is the winner's prerogative.
Richard Jolly covers the Premier League and Champions League for ESPN FC. Twitter: @RichJolly.