James Rodriguez has told Sport Bild that Bayern Munich might be "even bigger" than Real Madrid.
James, 26, signed a two-year loan deal at Bayern earlier this month with an option for a permanent transfer from Madrid in 2019 after falling down the pecking order at the Bernabeu. 
"Bayern Munich is just as big a club as Real Madrid, if not even bigger," he said. "I always had a lot of respect for Bayern but when I was mulling over the move to Munich, I looked at the squad and thought: 'There's just as many stars here as at Real and the quality is exactly the same.'"
Asked about Bayern's history, James added: "Above all I remember Oliver Kahn — one of the biggest personalities in world football.
"He always represented FC Bayern's never-say-die mentality. Oliver Kahn has a very strong character and he always wanted to win, something I connect to this club. Many players have become legends in Munich."
James also said his relationship with Bayern boss Carlo Ancelotti played a pivotal role in his decision to join the Bundesliga champions.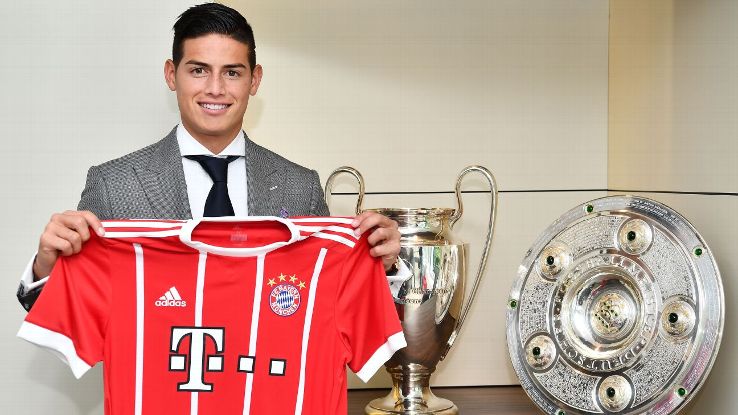 Ancelotti signed James while in charge of Madrid following an impressive 2014 World Cup campaign in which the Colombia international won the Golden Boot as the tournament's leading top scorer.
Under Ancelotti, he scored 17 goals and provided 18 assists in 46 appearances in his debut season at the Bernabeu in 2014-15, but he found his influence increasingly limited under Zinedine Zidane.
"We haven't worked together the past couple of years but we always stayed in touch," he said. "That helped me a great deal and I missed the 'Mister' as a coach. We have a super relationship, it's fun to work with Carlo and I'm pleased that we are reunited again."
Mark Lovell covers Bayern Munich for ESPN FC. Follow him on Twitter: @LovellLowdown.