The old adage that "form is temporary, class is permanent" will leave millions of football fans supposing that Barcelona vs. Inter on Wednesday is a foregone conclusion — as is the prospect of the Spanish champions qualifying for the Champions League knockout rounds. And admittedly, history backs them up.
Since Barca last lost at Camp Nou in the Champions League — 32 matches and six and a half years ago — only three teams have even managed a draw there: Atletico Madrid in 2013-14, Juventus in 2016-17 and Tottenham in 2018-19. Please note, if you want to empower that false feeling of Barca's invincibility, each of those teams powered onward to the final in the season they managed a draw in the Catalan capital.
Another fun fact seductively whispering "Give up!" in the ears of any half-hearted Champions League visitors is that since Bayern Munich inflicted that last defeat at Camp Nou in the 2013 semifinals — the Bavarians also en route to the final that year — the aggregate goal tally has been Barcelona 93-15 Everyone Else. And just for garnish, the last time the Catalans failed to make it out of the group stage was, impressively, 19 years ago — third in the standings behind AC Milan and Leeds.
But will this week prove that class, or form, is dominant at the Camp Nou? It might be a close-run thing. And if Inter were to do the unthinkable, leaving Barca with just a point after two Champions League matches games, what risk is there of the Blaugrana failing to emerge from this awkward but theoretically surmountable group?
You might find that idea risible. And, admittedly, not since 1997 have Barcelona reached a Champions League Matchday 3 with nothing better than a draw — the season they finished bottom of a group containing Dynamo Kiev, PSV and Newcastle. But history and stats can't tell the entire story.
– Hunter: Barcelona are in crisis. Here's how they can turn it around
– Champions League group stage: All you need to know
– ESPN Champions League fantasy: Sign up now!
Barcelona played with authority, energy and a cutting edge at the weekend; sufficiently so to win 2-0 at Getafe, which — given the form, injury problems and impoverished away record Ernesto Valverde's team took to the Spanish capital — was a thoroughly good result. Clean sheet, too. But there has been more than enough evidence this season, including five goals conceded at the Camp Nou thus far, to hint that Antonio Conte's Serie A leaders can arrive in the Catalan capital with serious intentions of taking a point or points home with them.
This is a monumental moment in what will almost certainly be Valverde's final season in charge of a club that so desperately yearns to wear Europe's crown again. In his own head, he'll be completely clear of the huge causal connection there could be between Inter winning at Camp Nou for the first time since 1970 — when Barcelona were coached by an Englishman (Vic Buckingham), had Pepe Reina's father in goal and the real Luis Suarez (Spain's only Ballon d'Or winner) was playing for the Nerazzuri — and the Blaugrana flopping in the group stage.
That's how vital, how engrossing this match is: one the neutrals had better not miss, tension and entertainment guaranteed.
One of the reasons that it's fair to give intense scrutiny to the prospect of Barcelona's vast unbeaten run at home potentially coming to an end is that, as in 2013 against Bayern, Lionel Messi's optimum form will be unavailable. While Tito Vilanova's side were given a 7-0 thrashing, en route to Jupp Heynckes' Bayern winning the Treble, Messi was a half-paced participant in the first leg and, hampered by injury, a spectator on the bench in the 3-0 home defeat.
By Wednesday morning we'll surely know whether Messi, troubled by a minor but still worrying adductor strain, is even in contention to face Inter. By his own admission, while picking up his Best award at a FIFA gala last week — ironically in Milan — he still feels sluggish and heavy legged anyway given his lack of a proper preseason because of a lengthy calf injury.
Inter, just like when the sides met last season, won't face being scorched by the greatest footballer in Barcelona's long history. A year ago it was an epic match. Luciano Spalletti's side pressed hungrily and often threatened, but were eventually overwhelmed by a team driven by the modern Luis Suarez, fizzing with anarchic creativity, on a night when Barcelona played with vitality, energy and total confidence, putting 11 shots on target, including one off the woodwork.
All this with Messi, arm in a sling, watching from the sidelines.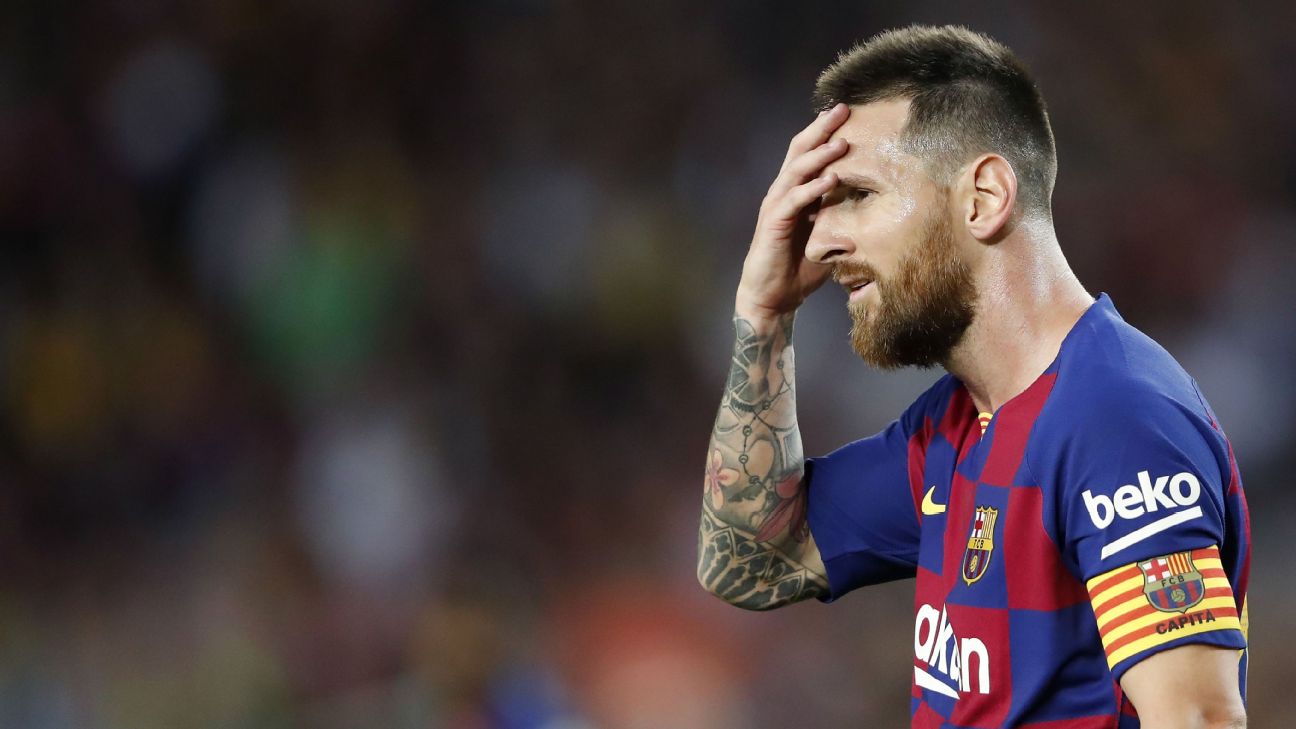 But it's a good bet that this week's Barcelona are not only short of the vast energy and self-assurance they showed last October, they are plagued by a defensive vulnerability that stems from being slower in midfield, less obsessed with using possession to control matches and lacking the right level of full-back play.
Man for man, it's still a reasonable argument that Barcelona are better than Inter. But Conte's team looks faster, tougher, in better form and tactically organised by someone who will believe that what he learned the only time he coached against Barca — when he was significantly unfortunate in the result — can be put to good use here.
It was, if you recall, Chelsea vs. Barcelona two seasons ago. History records the result as a 4-1 aggregate defeat, but Conte's side won the first leg by a TKO, making one slip all night, resulting in the 1-1 scoreline that put an entirely false look on the balance of the match, and across two legs they hit Barcelona's goal frame four times without the ball going in.
The intensity, the closing down, the one-v-one battles that Conte's team won at Stamford Bridge, where Valverde's Barcelona were hustled and hassled until they were slightly clinging on: they were all a warning for the 4-4 away-goals elimination Messi & Co. would suffer at Roma's hands in the next round.
I've got no doubt that Conte will have identified that Barcelona's problems haven't been corrected, in fact they've augmented. Valverde's side is inherently vulnerable to being pressed, being counterattacked at speed, has some problems coping with balls played into its box and is nowhere near either its athletic or competitive peak.
Now, if this were an Inter article, it'd be imperative to accept that only a last-minute equaliser spared their blushes at home to Slavia Prague, suggesting that there's more than a hint of danger for the Nerazzuri here too. They, too, must fear the idea of losing and facing Matchday 3 with only a point in hand.
For both clubs, hovering over them like the remonstrative words of a stern accountant or an angry bank manager, is the fact that not making it out of the group can cause a significant financial downturn that affects squad building and employment prospects. A quick example is from the 2017-18 revenue distribution: For failing to get out of their group, Atletico were paid just over €31 million; for reaching the quarterfinals, Barca got just under €60m; and merely for losing in the last four, Roma earned €84m. There's loads at stake here.
The added side bet, for Barca, is that it has been confirmed that Messi has a "walk away for free at the end of each season" clause in his contract. His most recent words on the subject are that Camp Nou remains his "football home" where he "wants to stay" but that he wants to be sure that the club has a "winning" project. Failure, in this instance, would carry all kinds of extra fears for the board.
Inter's domestic record — sequential wins over Milan, Lazio and Sampdoria, a 100-percent record after six matches plus only two goals conceded — ensures that Valverde's squad must prove that the part of the eternal adage that matters here is that "class is permanent."
In their past 32 Champions League matches, they've reacted to the competition anthem like Pavlov's infamous dogs: ravenous right on cue, scampering about as if this type of contest unleashes a special sense of joy and self-assurance in them. That'll need to be the case again on Wednesday.
All of Barcelona's rivals, Inter at the head of the queue, suspect their jaw is made of glass and now come looking to land a knockout blow. Can they? Will they? Or will Barca's innate competitive aggressiveness come charging to the rescue? I suggest you don't miss this one.