"Two's company, three's a crowd" is the age-old cliche but when it comes to football, three might be the magic number. We look at the game's most potent trios and what makes each of them so brilliant.
Liverpool: The kings of open space
This terrific threesome thrives on open space, at their peak when afforded room to run and attack in behind a hastily retreating defence. They fit the high-press ideals of their boss, Jurgen Klopp, and are equipped to exploit even the most innocuous change of possession.
What makes Mohamed Salah, Roberto Firmino and Sadio Mane so deadly is their blistering pace and conviction when in possession. They rarely get in each other's way, stretching opponents to a breaking point by their full use of the pitch. Firmino is arguably the game's sharpest target man up front despite lacking the natural size and strength of a big centre-forward; his hold-up play, off-the-ball running and distribution creates room for his strike partners to exploit.
Salah's a classic inverted winger, drifting in from the right side with ease to create shooting opportunities. Mane's more of a natural winger, hugging his touchline and beating his man with pace on the outside or foot skill to the inside. They thrive off service from midfield, too, catching teams in transition and beating offside traps for simple finishes.
Last season saw Salah compile a career year and a Ballon d'Or nomination, the main beneficiary of Liverpool's aggression in winning back possession and quickly shunting it to the front three, who rarely spurned a scoring chance. That said, they do have a weakness, as breaking masses defences isn't their strong suit. The trio need room to operate; teams that dig in and sit deep in the final third forces other Liverpool players to be decisive from midfield. But in open play, this front three is unparalleled.
Manchester City: The penalty-area assassins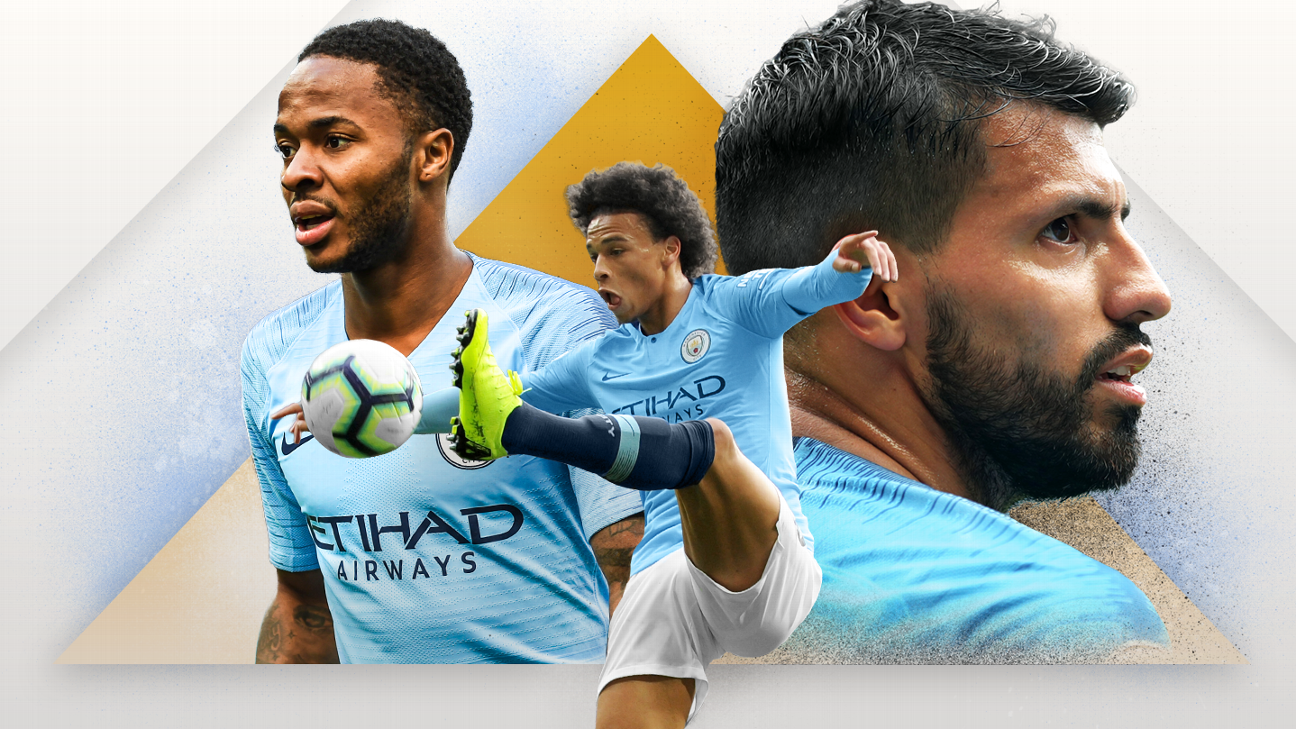 It almost feels unfair to single out the trio of Raheem Sterling, Leroy Sane and Sergio Aguero given how brilliant Pep Guardiola's entire squad is at breaking down opponents. But the truth is these three in particular are the most adept at applying the finishing touch. Their strength isn't so much in the creation of chances, but the conversion.
Raheem Sterling's progression to becoming one of the best forwards in the world has been undeniable, especially under Guardiola. Whether dropping deep to link play or applying his pace to crack a rigid offside trap, his power derives from his speed of thought and execution. Whether playing the first pass in an attacking move or applying the simple finish, Sterling's understanding of the game is excellent, especially when you consider he's only 23 years old.
Leroy Sane's pace and power gives opponents a torrid time. Though he's drifted in and out of the lineup at times over the past 12 months, his ability to create chances no matter the scenario make him difficult to handle. Witness his goal against Liverpool in January, 2018: isolated on the left wing and with little time to control a long, lofted pass, a clever bit of chest control bought him time to dart into the box, cut back onto his left foot and finish from an impossibly narrow angle. Receiving the ball far from goal isn't a problem for Sane given his skill and confidence to get into the box.
Then there's Sergio Aguero, one of the game's purest finishers and the punctuation on many of Manchester City's flowing sentences. His constant movement makes him impossible to mark out of a game; he'll drift all over the attacking third to open space for others or create an angle for himself. That, combined with his canny knack of being where the ball will eventually end up, has seen him become the club's record goalscorer and the ninth person in Premier League history to notch 150 goals. Oh, and he did it in record time compared to legends like Wayne Rooney, Alan Shearer and Thierry Henry, hitting the milestone in 218 games.
Paris Saint-Germain: The all-stars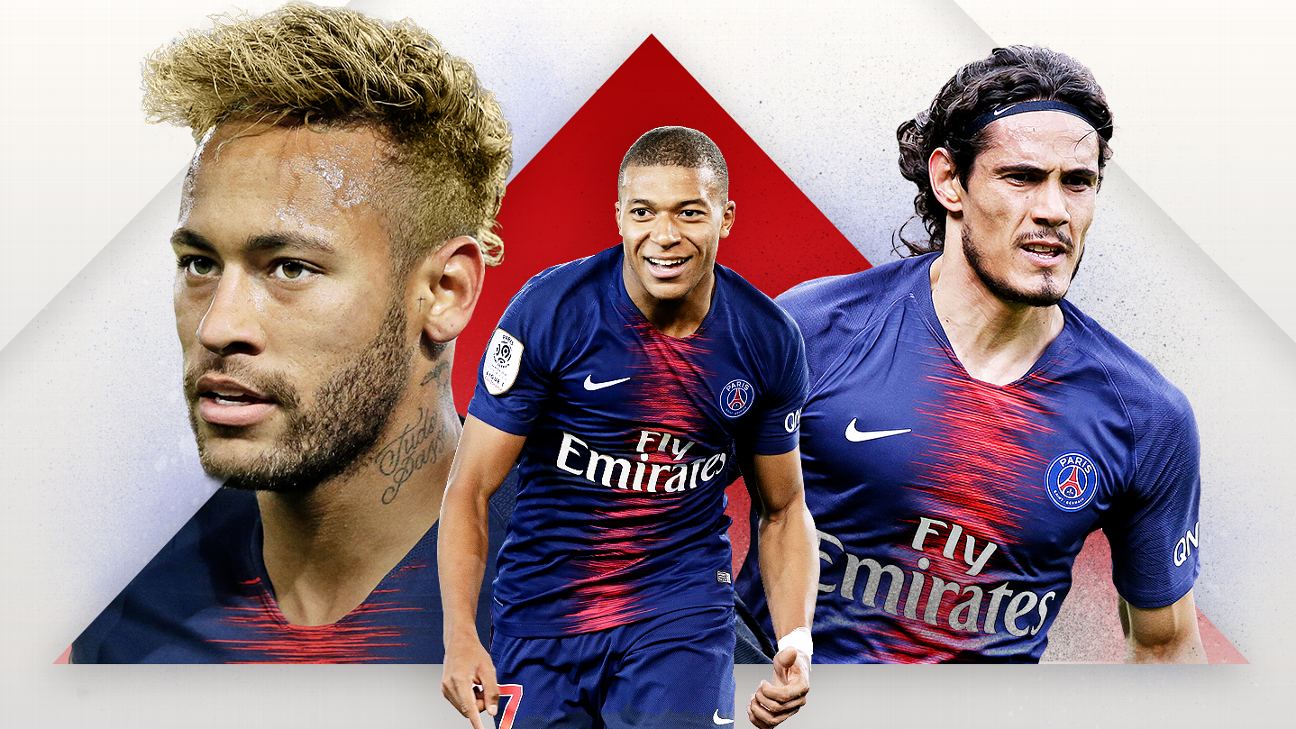 If you think it's unfair that Ligue 1 teams have to deal with Neymar, Kylian Mbappe and Edinson Cavani, well, you'd be right. It's an embarrassingly prolific trio for the French league but what's most remarkable about it is how three mega-stars at their previous clubs have managed to gel and work as a functioning unit without much in the way of apparent ego.
Given PSG's remarkable start to the season — 13 league games, 13 wins — there have been enough goals and assists for everyone in the XI and none more so than these front three. Mbappe has 11 goals and four assists in nine league games, Neymar isn't far behind with 10 goals and five assists while Cavani, the most "traditional" forward of the three, has eight goals in eight games.
They've struggled to make a similar impact in the Champions League so far this season but the combination of skills and style make them impossible to stop every week against nearly any opponents.
Barcelona: The close-control champions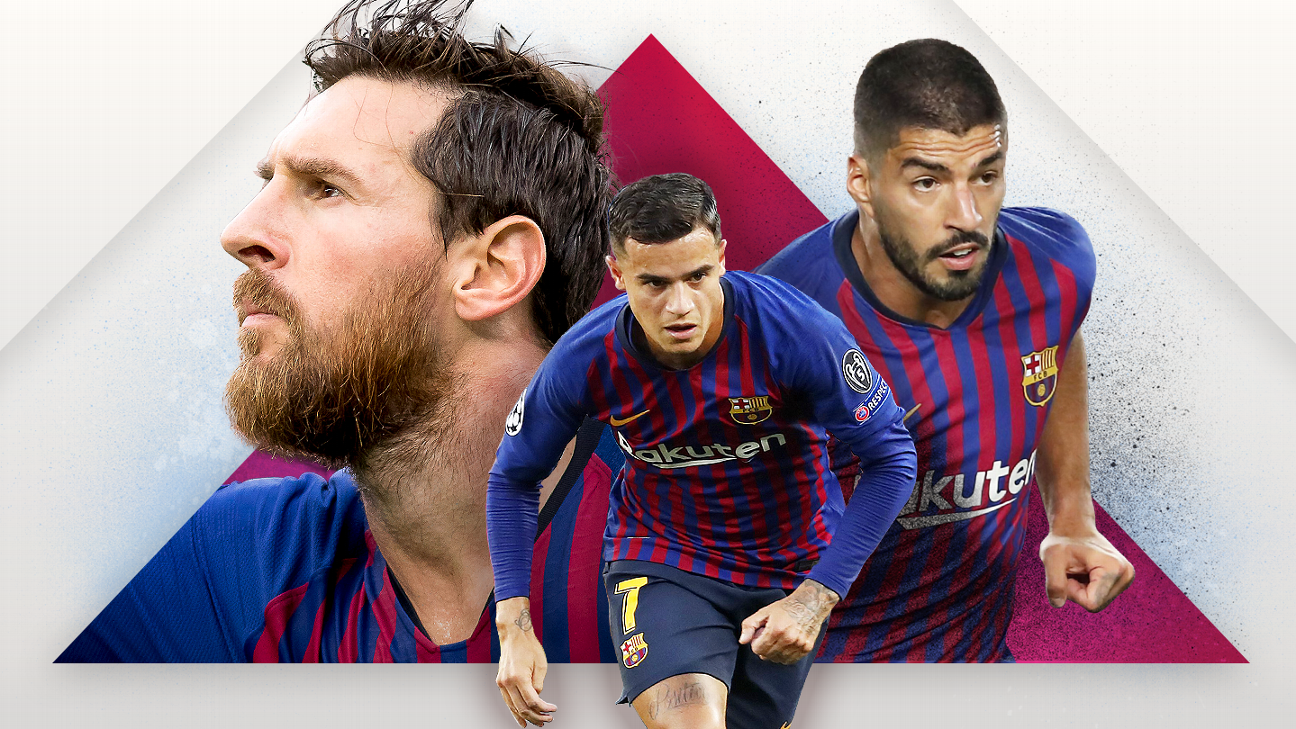 What this diminutive trio lacks in stature, they more than make up for in potency and pound-for-pound brilliance. Whether at the Camp Nou or further afield, in La Liga or the Champions League, the three-headed monster of Lionel Messi, Philippe Coutinho and Luis Suarez have an almost telepathic connection that enables them to extract the most out of even the most crowded of penalty areas.
Their collective skill is most evident in tight spaces: each of them is at their best when surrounded and seemingly out of options. Messi's close control has few peers in the modern game; Coutinho is at his best when he's cornered, whether he shifts the ball for a quick shot or breaks a massed defence with a through-ball few players would attempt. Then there's Suarez, whose off-the-ball movement is often impossible to track.
They haven't hit their potent best too often together this season but 2017-18 was a perfect summation of their telepathy, with 67 goals and 29 assists in La Liga between them.
Tottenham: The super-group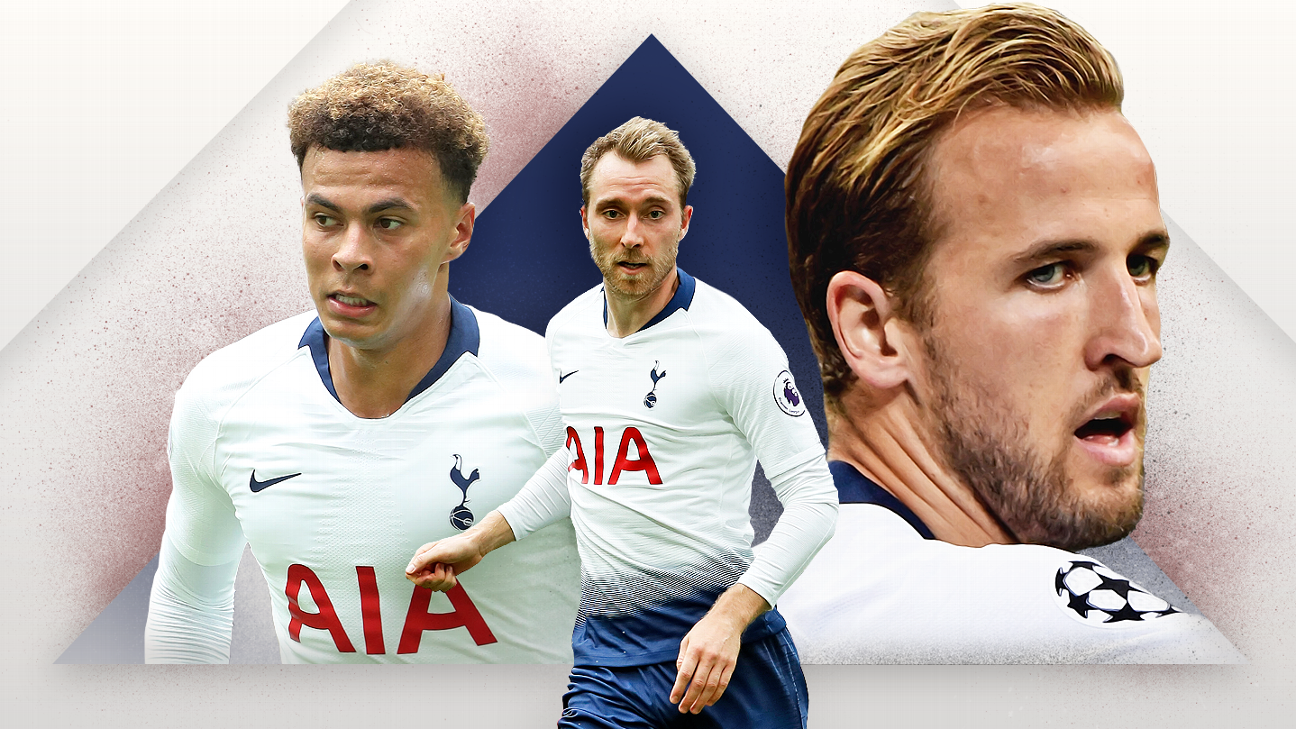 This isn't the conventional attacking triumvirate compared to the rest above but where would Spurs be without Dele Alli, Christian Eriksen and Harry Kane? Only Kane could reasonably be considered in football's top tier of players but the beauty of Tottenham's triple-threat is that they all complement one another to perfection. Such is the demanding style and work put in with Mauricio Pochettino that the three players know exactly what to do and where to find each other in the final third.
Eriksen's vision and conducting from midfield is balanced nicely by Alli's dynamism and skill, with Kane supplying the finishing touch or working tirelessly all over the pitch to win back possession or hold up play to bring teammates into attack. It's a perfect mix. Need further proof? Look at whenever one of the three is absent. Spurs' winning percentage in the Premier League with all three on the pitch since Alli's first season (2015-16) is 64 percent; during that same period, when at least one of them is missing, that percentage drops to 50 percent.  
Bottom line: Tottenham's success owes so much to this super-group.