"I have nothing but respect when I see how many high profile offers from all over Europe Ousmane Dembele has turned back and how he has stood firm about his commitment to BVB over such a long period of time." Hans-Joachim Watzke, CEO of Borussia Dortmund, noted on the club's official website as Dembele was unveiled by the Black and Yellows in May 2016, adding: "it is not always obvious that someone will act this way and it shows real character."
Ask Watzke again in August 2017 about the 20-year-old's character, and the answer might be a little bit different. The Frenchman has been fined and suspended from training and matches until Monday by the club after going on strike. The French winger missed training this week without a leave of absence while having his phone switched to airplane-mode — apparently, in an attempt to force his way to Barcelona.
On Thursday, events followed swiftly on one another. First, Dortmund coach Peter Bosz confirmed reports at his news conference ahead of Saturday's first round cup match against sixth-tier side FC Rielasingen-Arlen that Dembele indeed skipped training, saying: "It's true, he wasn't there today and to be honest I don't know why. We tried to reach him, without any success. I hope that nothing bad has happened.
"I talked to him yesterday. He told me he was in Paris with his friends. He did not say anything about a transfer."
Less than two hours later, BVB disclosed — as they are obliged to as a stock company — that they turned down Barcelona's first offer, rendering a transfer is "currently not likely" in the ad-hoc statement.
Another 60 minutes passed until sporting director Michael Zorc released a statement via the club's official website that Dembele's action would have consequences. 
"Ousmane Dembele missed BVB training today without any valid reason and he obviously consciously made the decision to do this. Of course, we will sanction this behaviour." He added: "In addition, we have suspended the player from training and from taking part in any match day activities after discussing this with the head coach until after the cup match this coming weekend. The player is currently present in Dortmund unlike other reports that state the contrary."
Although it is one of the uglier sides of modern football, it is not exactly new that players go on strike in order to force a transfer. It was Henrikh Mkhitaryan, who stayed away from Shakhtar Donetsk's training ground in 2013 in an ultimately successful attempt to join Dortmund. Neymar showed similar antics that are far removed from professional behaviour in the episode that saw him join PSG for a record fee in the end. 
Though this time, the power of a player might be tested as the Black and Yellows have to firmly stand their ground in the negotiation with the Catalans. Watzke described the situation for BVB in this negotiation quite well ahead of the DFL-Supercup last weekend.
He said: "We have to look at our sporting perspective in the medium-term. It's not about generating high transfer fees as quickly as possible." 
On the following day, the CEO mused: "On the one hand there is the high fee you get on the other hand you have to consider the money you can earn with a player within the next years."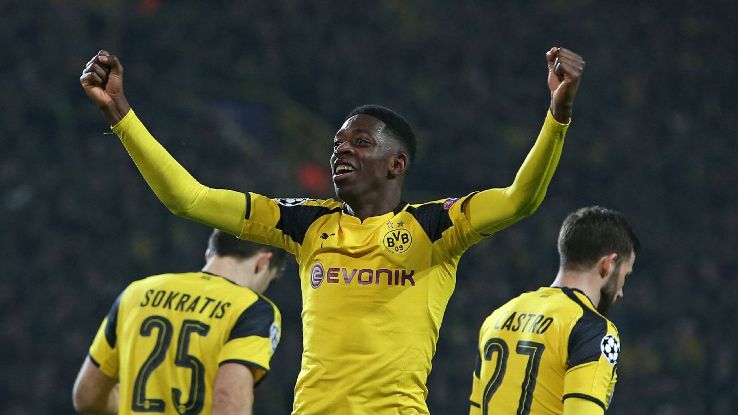 Even though Dortmund have a lot of great attacking players in their ranks, Dembele makes the difference for them. With his ambidextrous, high-paced dribbling skills he is a surprise factor for any opposition. With BVB's build-up play still looking somewhat uninspired under Bosz, the French whizkid's individual quality is needed to get the much-needed results.
For the Westphalians, it will also be a reflection of their own sporting ambitions whether they end up selling their best individual attacking player. Having Dembele on the roster will increase their chances to dethrone Bayern in the Bundesliga and can be the difference between a quarterfinal or a semifinal in the Champions League. 
And in the end, Dortmund also have a responsibility to present entertaining football at the Westfalenstadion. "We want to play football and not open a bank," Watzke said in 2011, when the likes of Mario Gotze and Mats Hummels were linked with expensive moves away from the club.
Words that would contradict Dembele's departure in 2017, as there is little to suggest that he wouldn't earn BVB a major payday in 2018. Unlike Neymar did in Spain, Dembele does not possess a release clause in his contract that expires in 2021 — and that leaves Dortmund with all the bargaining chips firmly in their hands. 
So Barcelona will have to either pay the asking price that ranges between €130m and €150m according to reports or look for a Neymar replacement elsewhere. And for Dembele, it will be interesting to see how long he can afford to pout like a child that didn't get its candy at the supermarket checkout. While his behaviour is designed to put a wedge in between himself and his current employer, it could also harm his own value in a World Cup year.
Although the bigger club — in this case Barcelona — usually wins the power struggle in such a heated transfer bargaining, Dembele ending up at his declared dream club is not a foregone conclusion. 
Stefan Buczko covers Borussia Dortmund for ESPN FC. Twitter: @StefanBuczko.