Diego Costa has told ESPN Brasil that he believes Chelsea are pricing him out of a move away from Stamford Bridge.
Costa, 28, said that Chelsea need to lower their asking price in recognition of his achievements at the club, and admitted he may have to consider transfer offers from other clubs if Atletico Madrid do not make a "big effort" to sign him this summer.
The Spain international, who remains in exile in his home town of Lagarto in Brazil, was quoted by Globo Esporte on Thursday as saying that his destination for next season was "already defined" and reiterated that he would only consider a move back to Atletico.
But in an exclusive interview with ESPN Brasil, Costa admitted that Atletico are not close to meeting Chelsea's valuation despite weeks of negotiations, and he knows he will have to change his plans if the Blues refuse to compromise.
"I've demonstrated I care for Atletico and have interest in playing for them," he told ESPN Brasil's Joao Castelo-Branco. "But if Atletico and Chelsea don't come to an agreement and Atletico don't make a big effort, I can't keep on wanting to play for a club that isn't going to make a bigger effort to try and sign me.
"I know that this [big effort] will happen, but if it's to pay the amount that Chelsea want it won't be possible.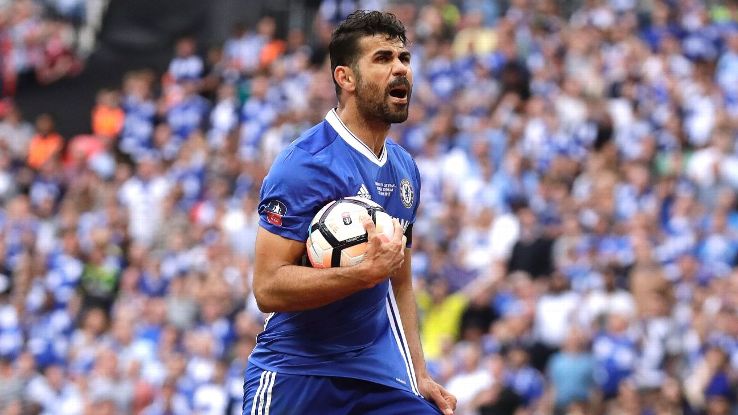 "What I know is that this offer Chelsea will get is bigger than what they paid [when they signed Costa from Atletico for £32 million in July 2014], so I've given them something back in all senses [sporting and financial]."
Pressed on how much Chelsea are demanding in order to sell him, Costa replied: "I don't know, but my agent said that Chelsea want something that Atletico can't get near.
"When we heard that [Antonio] Conte didn't want me anymore, my agent went to find out if there was interest from Atletico for me coming back. Of course for the warmth and respect that I earned there, they showed interest. But they wouldn't pay a fortune. Atletico is a team growing every year, a big team, but they can't pay an extraordinary amount."
Costa argued that agreeing to let him go for a lower fee would be a fitting reward for three seasons at Stamford Bridge in which he has been the club's top scorer three times and helped win two Premier League titles.
Daqui a pouco no https://t.co/9qM1vrWen9
Conversa exclusiva com Diego Costa. pic.twitter.com/rnqlSTfOM7

— Joao Castelo-Branco (@j_castelobranco) August 18, 2017
"Chelsea have offered me to several clubs, but I was very clear with them," he added. "I said that if I'm not part of the manager's plans, I would like to choose my destination. I'm not going to let them decide just to get more money.
"When I came to Chelsea they paid a lot less compared to what's being offered to them. I think they should take into account everything that I've done. It's not my fault that I'm not at the club. If it was down to me I'd be playing. It's already been one month. Holidays are good but it gets tiresome.
"I didn't provoke the situation, but now that it's come to this the club has to think in two ways. Of course they need to get something back [in a sporting sense], like I gave them on the pitch, but financial as well. After three years they will receive a fee higher than what they paid."
Chelsea have made it clear that they expect Costa to fulfil the terms of his contract by returning to England, coming back to training, regaining full fitness and putting himself in contention for a first-team place. 
But he insists that the club have not made it clear to him if he would be considered to for first-team action, and admitted that his relationship with Conte is likely to be damaged beyond repair.
"I'll be honest, I have my agent and none of that has reached me," he added. "People at the club called me before [earlier in the summer] to give me extra holidays to not have contact with the manager.
"I was always meant to turn up with the group, but they were already saying that I'm going to have to come back and train with the reserves. I said that this was a lack of respect. We won the league and I haven't done anything so serious to deserve being treated in that way.
"It won't be the same as before [between him and Conte], and we don't know if the fight for the position will be fair. Because of me having exposed the [text] message I understand that he'll be annoyed, so if I go back I have to see if things would be clean, just and correct.
"That's how I like things. If I go back now I don't think it will be a fair situation. It won't be an honest fight for a position [in the team]."
Atletico Madrid coach Diego Simeone has regularly deflected questions on Costa's potential return to the Spanish capital, and on Friday he told a news conference: "[Costa] is not our player and what most interests me is the game against Girona [on Saturday] and the three points."
Liam is ESPN FC's Chelsea correspondent. Follow him on Twitter: @Liam_Twomey.