Philippe Coutinho should be enjoying 2019. He's started each of Barcelona's past four games, advancing in the Copa del Rey and maintaining that attractive five-point lead at the top of La Liga. The Brazilian has created and scored goals, and now that Ousmane Dembele is out for at least two weeks, chances are that Ernesto Valverde will tap Coutinho on the shoulder and say: "Big opportunity, kid."
But those are the naked stats. There's another, less happy picture.
One year on from becoming the most expensive signing in Barca's history, Coutinho's body language consistently suggests that he's lost his car keys or eaten some bad oysters. His celebrations are muted when teammates score, if he celebrates at all. You'd get an impression — quite false, I'm sure — of either disinterest or perhaps disappointment that it's not him.
It's a 180-degree turn from the "dream come true" expression he wore last January when joining: his mouth now a single straight line. And the type of natural smile that shows some old pearly whites and suggests happiness or fulfilment? That's pretty much a distant memory on this guy's face.
When he was left on the pitch against Leganes at the weekend and La Masia product Carles Alena taken off, there was some (albeit tentative) displeasure from the Camp Nou crowd, some whistling of Valverde's decision. It's not unnatural; the locals are ultra-keen to see one of their own emerging, fitting and succeeding. Alena had looked sharp and interesting.
Perhaps that moment wasn't a full-on harsh referendum on Coutinho. But given his price, reputation, skill set, plus the impact he made during his first five months after joining from Liverpool, the Camp Nou crowd should be delighted if Valverde thinks Barca's No. 7 is in good-enough form to finish another 90 minutes. Even tentative disapproval of Coutinho staying on and Alena being removed will raise some eyebrows.
It's also worth throwing into the mix that across these past four games there have been moments to make neutrals — not just Barca supporters — gasp and admire: a nerveless penalty, the occasional outrageous skill in one-v-one situations, his link-up play with Luis Suarez against Eibar for a brilliant opening goal. The case against him isn't that Coutinho is invisible, completely limp or failing to contribute — that's not the problem. What is clear, however, is that if this were the Barcelona of Pep Guardiola, certainly in those first three all-conquering years, then Coutinho wouldn't have fit.
Ernesto Valverde's Barca is a hybrid; a hybrid of the Johan Cruyff/Frank Rijkaard/Guardiola/Valverde idea matched with the much more robust, quicker, more vertical play introduced under Luis Enrique. That means that the standards are different.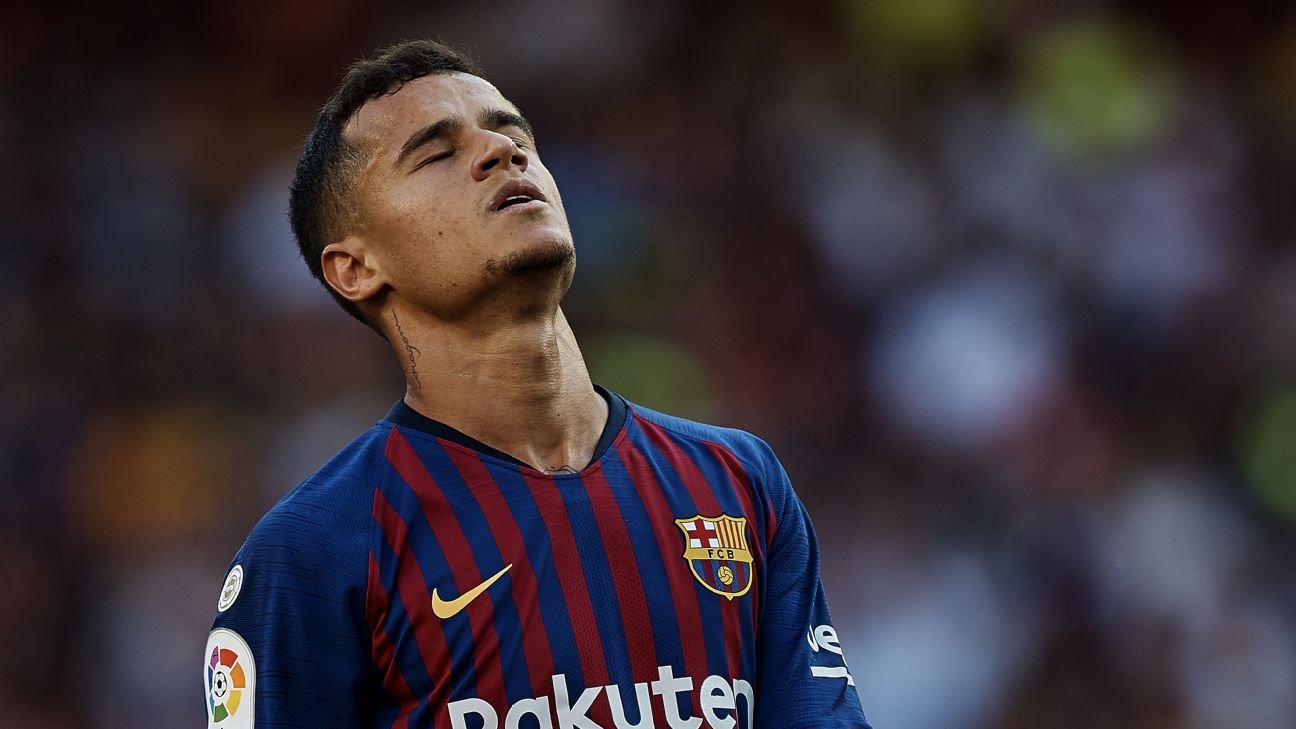 Guardiola's Barcelona was a machine, finely tuned, high performance, but made up of component parts that were brilliantly integrated and that, as a general rule, did the right thing, first time, every time. Spain's La Liga leaders and reigning champions aren't anything like that now. Players have left, standards have changed, but the core concept remains the identical: win the ball, own the ball, stretch the opposition for width and vertically, pass quickly and accurately, make the link-up play daring, quick and, fundamentally, full of one-touch football.
Some of this comes naturally to Coutinho. At his best, his technical majesty and his instinct mean he can successfully combine with Lionel Messi and Suarez. However, when Barcelona need to chew a game until it is digestible, when Valverde's team need to pass and probe and drag the opponents around until they tire, when football is more akin to chess than pinball — Coutinho can struggle.
It's fascinating, actually, that there are two such contrasting case studies being played out at Barca right now. Two Brazilians, each with the very dream of playing precisely where they are now. Coutinho is one, the other is Arthur. Neither man grew up in the Barcelona academy, neither received that Cruyff/Guardiola education.
Without quite going on strike, Coutinho desperately wanted to take his career away from Liverpool and to the northeastern coast of Spain where Catalunya's capital offered him what he envisaged as the nirvana of his career: trophies, adulation, time spent playing alongside Messi.
Like his elder countryman, Arthur was fixated on Barca. Initially shy of Messi, he had to pinch himself to convince himself that the whole deal wasn't just some dream he'd had.
Each of the two men studied for this big exam.
Coutinho already had that habit. At Liverpool he fixated on Steven Gerrard and how the Englishman played. By Coutinho's own revelation, he soaked up as much about his teammate as possible and, he thinks, gave wings to his own career as a result. Having joined Barcelona, Coutinho made a point of saying that he would use Andres Iniesta's last few months at Camp Nou to repeat the exercise: as much info, as much learning, as much improvement as possible.
Then there's Arthur. We are only two years on from his professional debut. He's lived his entire football life in Brazil, not Italy, England and Spain like Coutinho. He's had to face a baptism of fire in La Liga with Iniesta departing and Barcelona's midfield incapable of defending well while using only three men. He, too, had long made a point of endlessly studying matches featuring Xavi and Iniesta, all with the aim of understanding and then applying their genius to his own work. Right now the 22-year-old is playing as if he's been in this system all his life.
It isn't simply a case of whether Arthur or Coutinho is better or worse individually.
The youngster is performing with knowledge, smarts, cohesion and he'll consistently make good — and some great — choices on the ball. Work rate, tempo of play, constant passing rhythm, positioning but above all decisions, choices and understanding of what's needed in a situation — Arthur fits.
As for the senior Brazilian, well, his goal total is not quite one every two matches, but his strikes are often spectacular, meaning he can be distracted from the basics. Nor are his skills in question – he's gifted. But if this is a guy who studied Iniesta, where is the evidence?
What Coutinho does, to the detriment of both his team's play and his chance of becoming integrated, is choose poorly: the wrong dribble when other choices were available, a badly executed dribble, running down a blind alley when surrounded by passing options, surrendering good possession cheaply. The groans outnumber the roars.
It's interpretive, I admit, but it feels very telling that Coutinho reckons his route to success, his route to being established and important, is to produce magic — to do the kind of things that Messi does. The evidence for this is stronger when Coutinho plays and Messi is rested. Coutinho's mindset appears to be: "I have to step up to his level, produce his repertoire." Options to move the ball quickly, to pass into space, are often ignored so that he can attempt to trick another opponent when the opportunity to cut the rival open has already been carved out.
It looks like Coutinho is ignoring what their teammates always say about Messi, Xavi and Iniesta: Messi? "There's no one like him." Xavi and Iniesta? "The greatest thing they did was turn football's massive complications into effective simplicities." That's what their former colleagues will tell you.
Since taking over the club, Valverde has shown himself to be a very clever manager of situations, of individuals. Think of Paulinho's integration, how the coach accommodated Suarez's choice not to have surgery on his knee last season, Dembele's immaturity coped with and gradually eroded, Arturo Vidal's unhappiness at not immediately starting every important game dealt with cleverly and calmly, Neymar's departure handled.
Valverde's done extremely well on these and many other pressing subjects. How, or whether, he manages to retrain Coutinho — to show him that, sometimes, less truly is more — this will constitute one of the Basque coach's great tests.
And one that may help decide whether Barcelona can win the treble of trophies at which they are patently aiming their resources this season.