LONDON — Eden Hazard is genuinely in two minds about his future, but he is too carefree a personality to be described as "agonising" over the decision. For him, it's a win-win situation: Either he fulfils a boyhood dream by joining Real Madrid next summer, or he stays at Chelsea, where he is settled and adored.
During the course of an illuminating, 11-minute conversation with journalists, including ESPN, beside Chelsea's team bus at St. Mary's after Sunday's 3-0 win over Southampton, the winger managed to both reiterate his desire for a "dream" move while also adding that he is open to talks over a contract extension at Stamford Bridge.
"In my head, sometimes I wake up in the morning and think I want to go," he said. "Sometimes I think I want to stay. It is a hard decision. It is my future. I am 27, and I will turn 28 in January … If I leave, I will be happy. I know if I stay I will be happy. It is not like, if I go I am happy, and if I stay that I am unhappy."
The stakes are rather higher for Chelsea. The money isn't an issue; owner Roman Abramovich cares far less about the difficulty of getting market value from Madrid for Hazard in the final year of his contract than he does about his club losing a transcendent attacking talent it will not be able to readily replace.
Finances are no more significant an issue in any contract talks. Sources have told ESPN FC that Chelsea are prepared to make Hazard the highest-paid player in the club's history to commit him to a new deal, and they would put the contract and pen in front of him tomorrow if given the slightest encouragement.
Hazard, as he made clear, is open for talks and is in dialogue with Chelsea. But his priority remains to keep his options open because he knows that the minute the ink is dry on any new contract, he will lose the leverage he needs to join Madrid. That remains his Plan A, just as it was when he suggested "it might be time to discover something different" after leading Belgium to the World Cup semifinals.
Madrid have always held a unique attraction for Hazard, one that even the departure of his idol Zinedine Zidane last summer could not undermine.
"Real Madrid is the best club in the world," he added on Saturday. "I don't want to lie. It is my dream since I was a kid. I was dreaming about this club. We will see … It is also when you have a dream and you want to make it happen."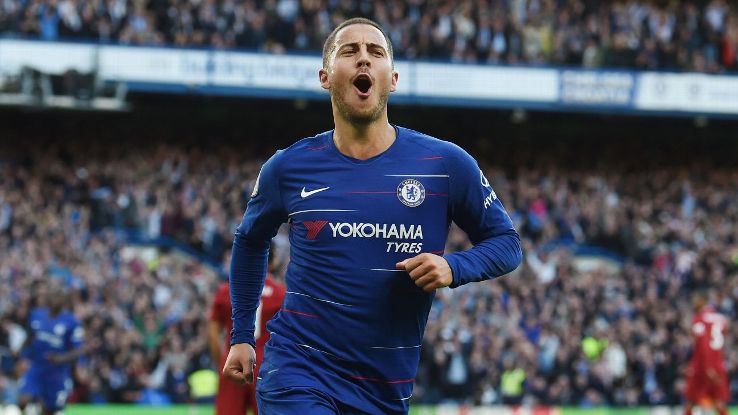 Chelsea's hope is that Madrid action their own Plan A next summer by signing Neymar or Kylian Mbappe, and that Hazard discovers the "something different" he has been seeking under new boss Maurizio Sarri. The early signs on that front are positive — he is in the form of his life and has offered glowing endorsements of the new manager.
"I am happy, and I don't need anything," he insisted. "It is not trophies. Of course, when you play, you want to win, but I just want to enjoy things on the pitch, like I am at the moment … this is the best football. It is similar to how we played in France with Lille. A lot of pass and move, movement from the team."
Even if it works, Chelsea's calculated risk could have unintended consequences. Hazard ascending to the level of genuine Ballon d'Or contender under Sarri can only be good news for this season, but is there a point at which he becomes too good for Madrid to ignore and moves ahead of Neymar and Mbappe on merit?
Then there is the question of whether Madrid can even afford such premium targets. They have not signed a Galactico since James Rodriguez in 2014 and only the €100 million sale of Cristiano Ronaldo to Juventus prevented the European champions from recording an €87m loss in their most recent accounts. If the answer is no, it will signal a huge shift in the broader landscape of European football and make Chelsea far more confident of ensuring that Hazard remains at Stamford Bridge for next season and beyond.
Ultimately, though, the final decision belongs to Hazard, and his power is growing. Every month closer to the end of his contract increases his leverage, and every dazzling display, like the one produced at St. Mary's, makes him more valuable to Chelsea and more desirable to Madrid.
But don't expect a swift resolution; Hazard flirted with every major club in Europe before signing for Chelsea in the summer of 2012, and the mischievous side of him enjoys the intrigue. The battle for his future has a long way to run and, just as with the Belgian himself, there will be plenty of twists and turns along the way.