"You are my Chelsea, my only Chelsea, you make me happy when skies are grey. You'll never notice how much I love you until you've taken my Chelsea away." Borrowing the melody from the Pine Ridge Boys' 1939 classic "You Are My Sunshine," Blues supporters have been singing their own version since time immemorial.
The inclement English weather ensured the skies were a leaden grey over Stamford Bridge on Easter Sunday and when Alvaro Morata gave Chelsea the lead against top four rivals Tottenham Hotspur on the half-hour mark, the mood among Blues fans wasn't just happy — it was ecstatic.
However, unlike the past 28 years that have seen them fail to win at this ground, Mauricio Pochettino's Tottenham side refused to lie down. Christian Eriksen's stunning equaliser on the stroke of half-time resurrected their chances of getting a result, and in the gathering gloom there was a growing sense among Blues fans that once again an opposition goal had shattered the fragile morale of the Chelsea team.
Burnley, Manchester City (twice), Crystal Palace, Roma, Arsenal, Bournemouth, Watford, Manchester United and Barcelona had all overcome Antonio Conte's side by exposing the lack of belief which has stalked his players this season, and Tottenham would do the same.
Conte spent much of the second half of the Spurs game shuffling around in his technical area, hands thrust in his pockets, eyes on the ground — which he probably hoped would swallow him up when Dele Alli scored the second of his two goals after the break which settled matters.
"Is there a fire drill?" sang jubilant Tottenham fans well before the final whistle as swathes of the home crowd, happiness long since evaporated, began to leave.
Chelsea owner Roman Abramovich wasn't at the Bridge to witness proceedings first-hand, and according to Blues legend Gianluca Vialli, his countryman Conte cannot wait to leave the club and can't stand the way they buy and sell players without consulting him. To make matters worse, star player Eden Hazard cut a disinterested figure. Maybe the Belgium international's mind is already focused on not getting injured ahead of the World Cup — or maybe like his current manager, he too wants to depart SW6.
Losing to Spurs was a chastening debacle for Blues supporters, who also have to live with the consequences of the latest crisis afflicting their club. Conte will go soon; Hazard, too, at some point; maybe even one day Abramovich will depart. Chelsea are in a mess right now, ridiculous really given the owner's status as a billionaire businessman and the amount of cash he has ploughed into the club since buying it in 2003.
With better planning, surely the repetitive boom-and-bust cycle is avoidable? Bizarrely though, it's not the case. Fifteen years on, Abramovich has a board lacking football pedigree, there is no technical director in place to determine transfer strategy, and the quick fix of hiring and firing managers — throwing cash at problems to sign new players and win silverware at the drop of a hat — suddenly looks unsustainable.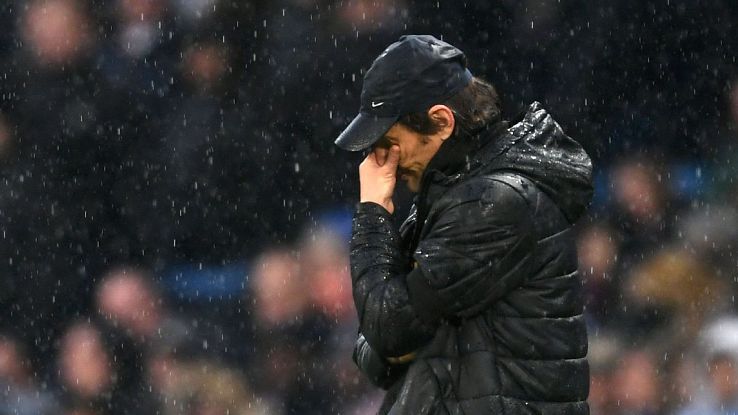 There was a long period in Chelsea's history when the skies seemed to be permanently grey over Stamford Bridge. Having enjoyed success in the mid-1950s, through the late 1960s and early 1970s, an over-ambitious board decided to redevelop the stadium at a time which dovetailed with a shocking economic crisis in the U.K. Stalked by the threat of bankruptcy, the Blues were relegated to Division Two in 1975, and in the age of austerity that followed, expectations of supporters waned. However it was the "You are my Chelsea" style camaraderie they shared that formed the glue that would bind the London club together.
Older Blues fans will recall that it was a 2-0 defeat to Tottenham Hotspur at White Hart Lane that all but condemned Chelsea to relegation in '75, and that game is often cited as one of the key reasons behind the bitter rivalry that exists between the clubs. The inspired appointment in 1993 of Glenn Hoddle, ironically a Spurs legend, as Chelsea player-manager by then-owner Ken Bates proved to be the catalyst for change and set off a chain of events which culminated in Abramovich buying the club 20 years later.
Unlike Abramovich, Bates scarcely missed a game at the Bridge. A controversial figure, he too worked his way through a succession of managers, however there was always the sense among supporters that the club was progressing. The stadium was redeveloped in the 1990s and Hoddle's legacy after he left to take the England job in 1996 was a Chelsea side that soon started winning silverware.
It's been a glorious run that continued with the arrival of Abramovich. Last season the Premier League title was won for the fifth time under the Russian's ownership, a 15th major trophy since he arrived. There are plans, too, for a remarkable new stadium to be built.
So are the skies really that grey over Stamford Bridge then? Surely Blues fans should still be happy, and not just in song? Maybe, but then maybe as with the song they feel that their Chelsea has been taken away.
What's certain is that this time around there is nobody there who cares enough to notice how much they love the club. Owner, manager, players. That's what hurts supporters the most, and the hurting will continue until they can see a positive change. What that change will look like is anyone's guess. And that hurts even more.
Mark Worrall is one of ESPN FC's Chelsea bloggers. You can follow him on Twitter: @gate17marco