At the end of a very long, very hot summer in which it felt like every day was Groundhog Day, another performance played out in public and in the press as if they were all stuck in Punxsutawney.
FC Barcelona didn't buy Neymar, but he still cost them.
Again.
Two years after Neymar walked out, mere days following vice-president Jordi Mestre saying he was staying "200 percent," president Josep Maria Bartomeu insisting he was "relaxed" about it and Gerard Piqué announcing "se queda" — words so famous and so wrong they became a meme that needs no translation — he decided that he wanted to walk back in again. And so, Barcelona, who'd been made to look silly once before, and who are due in court against him in 22 days' time, decided to help him do just that. Or did they?
The headlines provided a timeline to a story that never ended even when, at last, it did, to the satisfaction of pretty much no one. Take the Catalan daily Sport: "FINAL MOVE FOR NEYMAR," its front cover shouted. We could go back months and months but we've all got things to do, so let's cut to the chase, expressed like a cartoon strip across their covers.
– The definitive story of the Neymar saga
– Ogden: CL draw reaction for biggest teams
– Lowe: 'New' Real Madrid looks just like the old
The above line was printed on July 31 and it was followed by an "ULTIMATUM FOR NEYMAR" — on Aug. 12, two weeks later. So it can't have been that final a move and it can't have been that much of an ultimatum because it didn't end there. But the next day Neymar was pressing to go now! Well, maybe not now exactly but he was closer, they said the day after that.
Closer, but not close enough. A week later, he was in the same place he'd always been. He was, though, MORE OPTIMISTIC. That was Aug. 21 and two days later, there was a "FINAL MOVE FOR NEYMAR" (stop us if you've heard that one before) that wasn't exactly final either.
Neymar was "ON THE VERGE" of signing on Aug. 28. And so, Aug. 29 was "NEYMAR DAY" unlike all those other days, eh. Only, it wasn't of course. The next day was "FRENETIC." The day after they were "ON THE LIMIT." And then, well… then it was over.
Or not.
On the morning of deadline day, Sport (and everyone else) announced that while it was over, it wasn't completely over: Neymar could come in 2020 instead, which means we get to do it all over again.
---
At least Barcelona's players could forget it for a moment. They'd all been sick of it. Ernesto Valverde had admitted a few days before that he was desperate for Sept. 2 to come and leave it all behind. Asked how tired he was of it all on a scale of 0 to 10, he replied: "nine and a half." The only real surprise was that half that wasn't sick of it all.
All that drama and in the end, they hadn't even got him. The dream of an absurdly good forward line — we'll work out where to actually put them all later — was gone.
And that probably isn't even the worst part.
The next day, Sport ran a cover of Neymar, head down, looking sad. "Sunk," it said. He wasn't the only one affected and it's worth asking what damage this might have done, and what damage it may still do.
In the midst of it all, with Neymar dominating everything — plans, ideas, the mental space they inhabited and, let's not be naïve here, team selection too — Barcelona had dropped five points. That can't be attributed solely to Neymar, but it can't have helped either, and those points aren't coming back. Sure, Valverde was joking. Sort of. But many a true word said in jest and all that.
Neymar's departure had thrown his plans upon arrival. Valverde adapted the Barca squad, rebuilt it and won — it is worth reminding people how unexpected that was at the time — but two years on, Neymar appeared again, plans in the air once more. He could have done with Neymar then; he could have done without Neymar now.
Meanwhile, Barcelona hadn't come out of this looking good just as they didn't two years ago, when they emerged as weak, powerless and unable to exercise control. In 2019, they played this out publicly: those headlines are not about sport, easy though it is to giggle at them; they are about the clubs, about Neymar, about the game. The media knew which flights Barcelona were on, which hotels they were in and what time their meetings were. At least in part, because that's the way Barcelona wanted it.
There was something exaggerated about it all: a show, a charade even, like they wanted it to look like they were trying: especially, it has been suggested, to Neymar and to Lionel Messi, who really wanted his friend back. His friend and, let's not forget, possibly the best player he has played with. Even if maybe they actually weren't trying.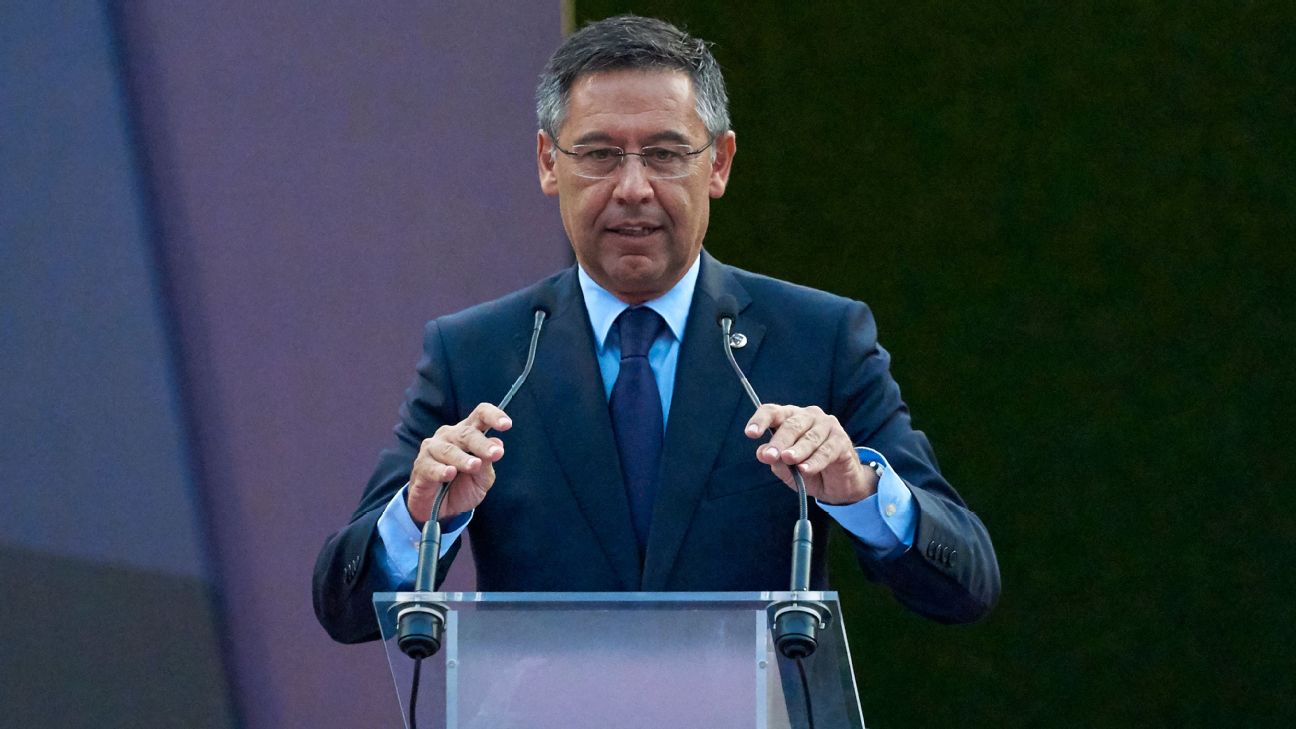 PSG had always suspected Barcelona didn't have the means to make this happen. There was no place to put Neymar and no money to pay for him, but Barca had to be seen to try. And the truth is that in the end, they might have quite enjoyed leaving him stuck. "Sunk?" That might have made some at Barcelona smile. So, this guy who left us in the lurch, made us look stupid, took us to court and then begged to return is unhappy? Good. So PSG are lumbered with him, having publicly said they wanted to sell, with the fans against him and everyone hating him after he effectively let it be known that he screwed up two years ago and wishes he had never left, making him the bad guy, not us? Even better.
The idea has been floated on these pages before: what if this was a brilliantly clever, Machiavellian act of cold, cold revenge on Barcelona's part? It's a neat idea, but it suggests a level of cunning that, honestly, it doesn't seem realistic to concede.
If there was something in it to start with, if the pursuit was a little half-hearted — we know it wasn't originally planned as you don't sign Antoine Griezmann if you're actually going for Neymar — the risk of Madrid getting him, a risk probably engineered by his camp, changed the game a little. And even if the outcome may actually be quite good and even what they wanted most deep down — he stays in Paris, unhappier than ever, doesn't join Madrid and is prepared to try again in the future when Barcelona ready for it — the cost is high.
If it was a plan, it was not without its losses.
Neymar coming might have been a problem; Neymar not coming, having pursued him, is a problem too. Even if it was a plan, Barcelona haven't come out of this looking good. "We're close," one director said, but they weren't. They made offers they couldn't make, with money they didn't have, and they didn't get their man. A man, it is worth noting, if only because it seems to get overlooked so readily, even gleefully, who is still a hell of a footballer. Not having him costs. More than just the absence. They have paid no money, but Barcelona might yet pay a heavy price.
Barcelona have also irritated those that wanted Neymar to come and those that didn't. Rebuilding some of those bridges may not be easy.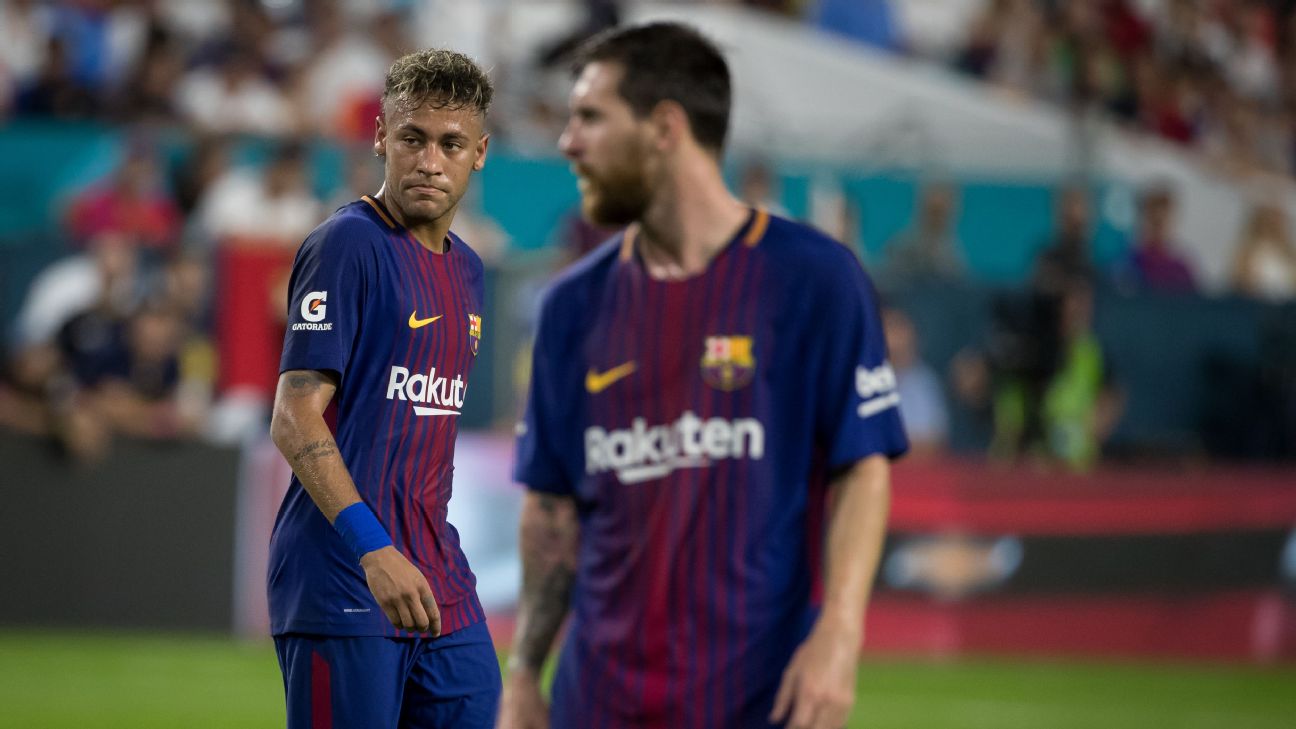 "Neymar did everything he could to return," said Luis Suárez. Perhaps it's a stretch but it's not difficult to read implicit in those words: the club, on the other hand, didn't. Suárez and Messi wanted him, as did other dressing room heavyweights; they have been let down. That Barcelona pursued him underlines this unhappiness, which in itself can't be an easy idea for Griezmann to digest. Think about it: you arrive as a star and they're agitating for someone else to arrive who plays where you do?
It's an even more difficult idea for Ousmane Dembele, the player Bartomeu said was better than Neymar and then tried to get to leave to bring Neymar back. He now knows he's expendable, that the president's word is worthless, that no-one stood up for him, no-one defended him and no-one fought for him to continue. Just as Philippe Coutinho was expendable, even without Neymar eventually arriving. That's almost €300 million of footballers they tried to shift out on the cheap. The very same ones they brought to replace Neymar.
So how do you mend that? Barcelona offered PSG players without even asking those players first. Then they set about trying to push them to the door.
A club is not just players, it is people.
All the while, other clubs watch. They hear PSG claim that in reality, Barcelona never made an offer until Aug. 27. They know that when it comes to dealing with you. Messi watches too: does he suspect? Does he trust? And Neymar watches: does he truly believe you'll be back, do everything to make it happen next summer? Can you bring him back? Can you wind the clocks to 2017? And what have you lost in the meantime?
Time itself for a start. The two men who were hurriedly brought in to replace Neymar, all that money gone, were the first you wanted out. What does that say about the planning? What position does that put you in? Where does it leave you that you tried to go back, pretend it never happened?
PSG would have liked to pretend too; Neymar certainly would. They lost, too, although at this point it is worth challenging the idea that he has been awful in France. He hasn't; in fact he has mostly been brilliant. He has also been injured. Ultimately, everyone agreed on one thing: they just wanted this to end. Go back, try again. Buy Neymar with the players that were bought to replace him.
There could be no greater portrait of the lack of direction at Barcelona, no more perfect definition of two years wasted, than this summer's mess with Neymar in the middle. Two years in which, apart from the agents who made a fortune and the father that got very rich, no one really won.
Except Liverpool.