LONDON — Results mean everything in football. Managers will always talk up the importance of performances, but supporters are more interested in the cold reality of the final score, which is why Arsenal head coach Unai Emery will have left the Emirates feeling like the big winner of Sunday's pulsating North London derby against Tottenham.
Emery spends most games wearing a pained expression in the technical area, but the Spaniard allowed himself to smile in the closing stages of this one, perhaps because deep down, he knew that he and his team got away with it against Mauricio Pochettino's side by claiming a 2-2 draw after falling 2-0 behind in the first half. "I'm pretty proud of our work," Emery said. "We played with our heart, sometimes more than our head and we need the balance. We need to be clearer in our mind."
That, in a nutshell, is the problem that Emery has to solve at Arsenal. Their football is too chaotic, but right now it is exciting chaos, and that is helping the former Paris Saint-Germain coach win the PR battle, if nothing else. On the pitch there was no victor, with Arsenal and Spurs taking a point each from a game that saw the home side trail 2-1 at half-time before salvaging a draw with a stirring second-half fightback.
– Laurens: Meet Arsenal's transfer guru, Raul Sanllehi
– Spurs ratings: Son, Lloris 8/10 in derby
– Arsenal ratings: Lacazette, Aubameyang earn 8/10 each
In the first half, we saw the Arsenal that we usually see against a "Big Six" rival: outplayed, outfought, out-thought and defensively naïve. Since Emery replaced Arsene Wenger as manager in the summer of 2018, Arsenal have played 15 games against the "Big Six" in league and cup and won just three of them, while losing eight. The old failings of the final years of the Wenger era always seem to be triggered by an encounter with a well-resourced rival and, in the first 45 minutes of this game, it was the same old story.
A week after surrendering their 100 percent winning start to the season with a 3-1 defeat at Liverpool, the Gunners appeared to be going the same way against their neighbours. Yet the second-half was a different story. Determination replaced disarray where Arsenal were concerned, with Alexandre Lacazette's goal in first-half stoppage time providing the platform for the second-half performance, in which Pierre-Emerick Aubameyang earned the draw with a 71st minute equaliser.
Spurs helped their neighbours, by giving them the freedom to chase to the game, but Aubameyang's strike was a big goal for so many reasons.
First of all, it ensured that Arsenal did not lose this game. Ahead of an international break, it would have almost signalled a mini-crisis at the Emirates had they gone into it on the back of defeats against Liverpool and Spurs, with their top four ambitions under fierce scrutiny. Staving off that kind of knee-jerk inquest was another upside from Aubameyang's equaliser, but for Emery, the goal and the draw also ensured that he could push on with his Arsenal rebuild with this result in the bank.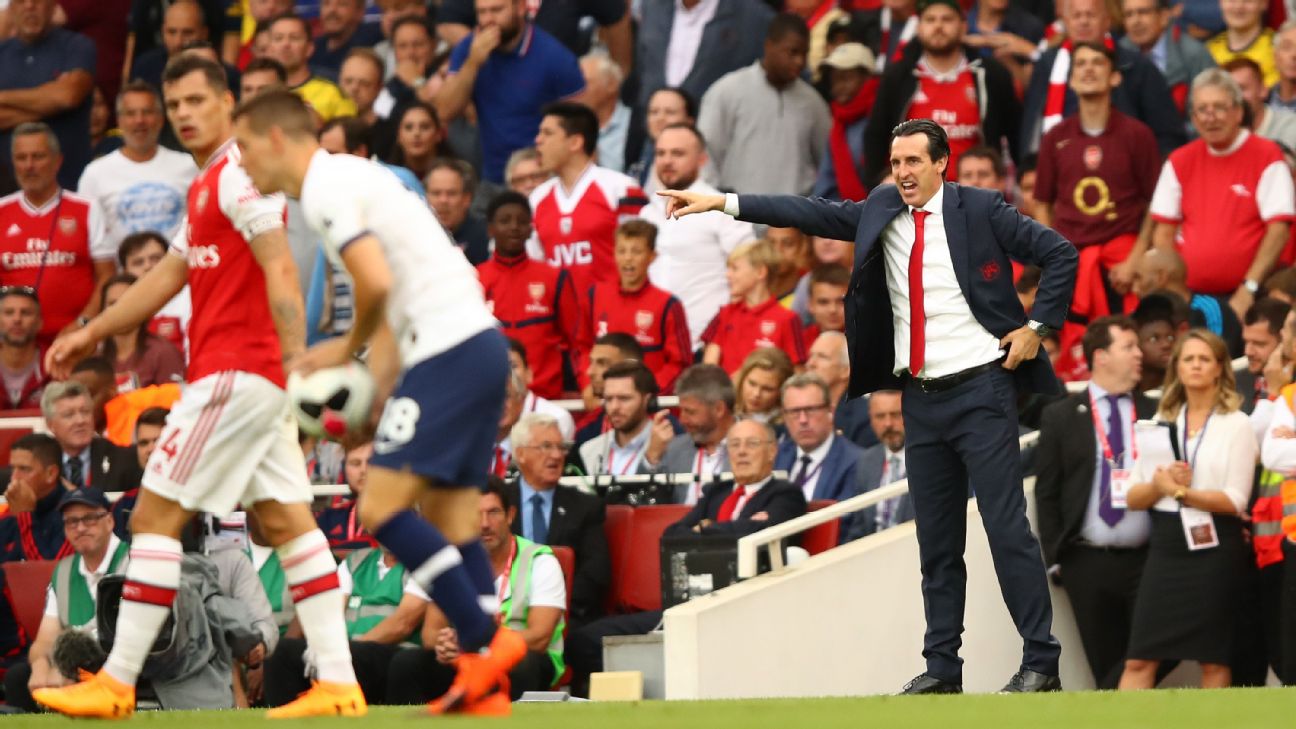 Supporters will always offer more patience towards a manager and a team when they see their players produce the kind of fightback which leads to a positive result from a seemingly lost cause. Sending supporters away from a game with smile on their face and spring in their step is crucial at any time, but especially so when a club is in a state of transition and the rebuilding process is not without its difficulties.
Against Spurs, Emery's unsuccessful track record against the "Big Six" began to look like a growing problem during the first half, when Christian Eriksen and Harry Kane (the latter from the penalty spot) put Spurs 2-0 ahead. All of those questions about Emery's tactical nous were beginning to rear their heads once again, especially after his disastrous ploy of using a diamond formation against Anfield that allowed Liverpool full-backs Andy Robertson and Trent Alexander-Arnold to wreak havoc down both flanks.
Even though Arsenal's defending was typically shambolic at times against Spurs, Emery's bold second-half substitutions, when he introduced Dani Ceballos and Henrikh Mkhitaryan in an effort to pose Tottenham more questions in their defensive third, led to the home side throwing everything forward and being rewarded for their adventure.
Fortune favours the brave and that certainly applied to Emery and Arsenal, and if the second-half fightback ensures that the supporters spend less time worrying about their defending, the Gunners coach will be certainly happy about that. But he will also know that he cannot allow Granit Xhaka to defend so recklessly in future — the Arsenal captain conceded a penalty for a ridiculous challenge on Son Heung-Min — and he needs to find a way to get David Luiz fully focused on defending.
With the attacking talent in their ranks, Arsenal will always pose opponents problems going forward, but their defensive frailties will also lead to more occasions when they have to chase games. As he embarks on his second full season in charge, Emery still has plenty of work to do, but days like this will only help buy him the time to see the job through.